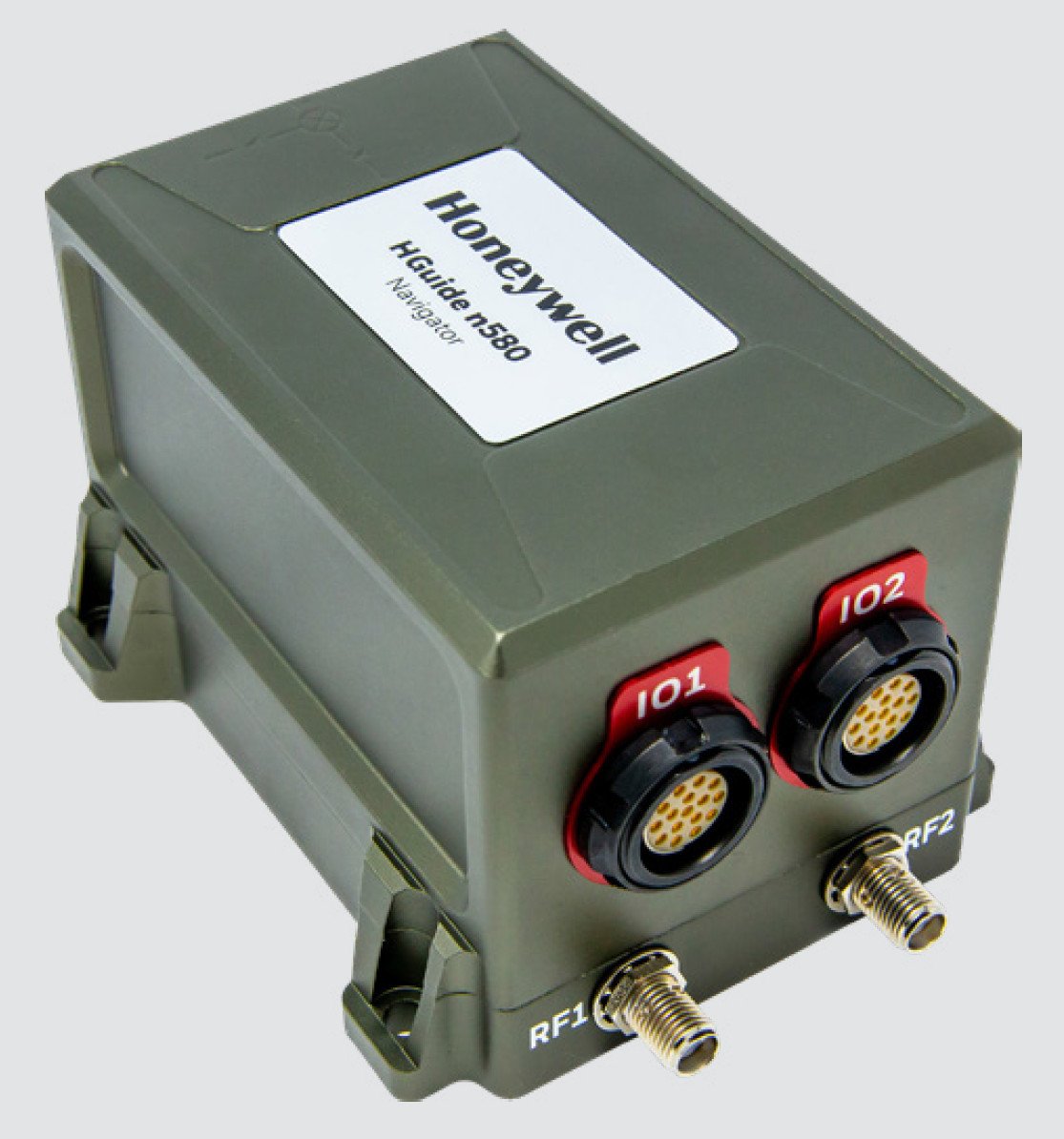 HGuide n580 Inertial/GNSS Navigator. Source: Honeywell
Honeywell's HGuide n580 Inertial/GNSS Navigator delivers continuous navigation information by combining global navigation satellite system (GNSS) reception with an inertial measurement unit (IMU). The combined system generates uninterrupted precision navigation data even if satellite signal quality is degraded.
This is possible because measurements from the IMU's accelerometers and gyroscopes do not depend on an external signal. Instead, they directly measure local linear and rotational accelerations, from which the vehicle's relative position and velocity can be calculated. [Learn More about Inertial Navigation Systems | Explore Products.] When GPS signal is restored, the absolute position reference it provides is used to correct for any errors that may have accumulated from IMU measurements.
The n580 is ideal for a wide range of manned and autonomous applications on the ground, in the sky or at sea in a variety of industries from mining, agriculture and construction to inspection, surveillance and mapping to automotive, communication and oil and gas. For example, the n580 could serve navigation data to the guidance systems of self-driving cars or unmanned aerial vehicles (UAVs).
The device provides highly accurate navigation data generated from Honeywell's proven navigation algorithms, including time-stamped position, velocity and heading information. In addition, the n580 outputs angular rate, linear acceleration, and roll and pitch measurements.
With dual antennas and multiple frequency capabilities, the n580 is compatible with signals from a variety of GNSS constellations including the United States' Global Positioning System (GPS), Russia's Global Navigation Satellite System (GLONASS), China's BeiDou Navigation Satellite System and Europe's Galileo.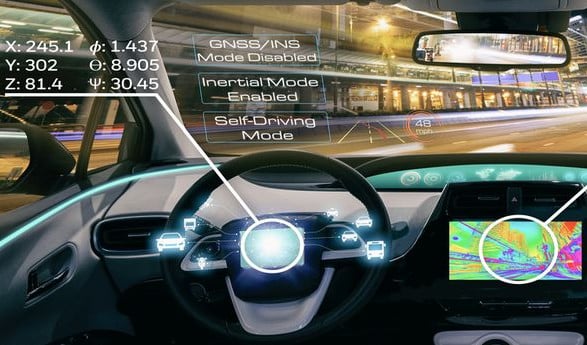 Continuous navigation data is critical in applications like self-driving cars. Source: Honeywell
The n580 supports several GNSS enhanced precision location techniques such as satellite-based augmentation (SBAS), post-processed kinematic (PPK) and real-time kinematic (RTK) mode options.
The unit achieves horizontal and vertical position accuracies of 0.01 RTK (m, 1σ) and 0.025 RTK (m, 1σ), respectively. Heading accuracy is 0.05 (°, 1σ) and pitch/roll accuracy is 0.015 (°, 1σ).
The n580's primary navigation interface is a 1 Mbit RS-422 port, with a secondary navigation interface provided by a 1 Mbit 5V CMOS connection. GPS pulse per second (PPS) signals are also output over a 5V CMOS connection. A 115.2 Kbit RS-422 port provides an interface for RTCM3 corrections data.
The n580 has a power consumption of 7 W and operates on a supply voltage of 9 VDC to 36 VDC over a wide temperature range of -40° C to 71° C. With dimensions of 9 cm x 6 cm x 6 cm, the n580 occupies just 324 cm3 of space and weighs 495 g.
The device is designed to withstand harsh environmental operating conditions and is both dustproof and waterproof with an IP68 protection rating.