At CES 2020 in Las Vegas, Aceinna unveiled a new triple-band real time kinematics (RTK)/global navigation satellite system (GNSS) receiver with built-in triple redundant inertial sensors designed to replace the expensive and bulky precision systems currently used in autonomous systems. The compact OpenRTK330L meets the performance, reliability and cost requirements of the automotive market along with the needs of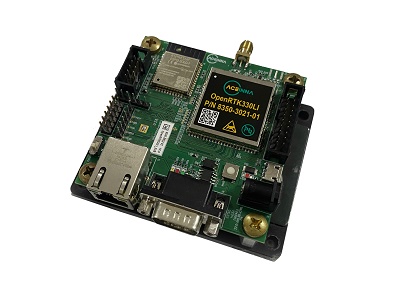 Source: Aceinnarobot, drone, construction and agriculture systems.
The OpenRTK330L is equipped with a triple-band RTK/GNSS receiver coupled with redundant inertial sensor arrays to provide cm-level accuracy, enhanced reliability and superior performance during GNSS outages. The receiver integrates a precise two degree/hour inertial measurement unit (IMU) to offer ten to thirty seconds of high accuracy localization during full GNSS denial, allowing autonomous system developers to safely and cost-effectively deliver highly accurate localization and position capabilities.
An embedded Ethernet interface allows easy and direct connection to GNSS correction networks around the world, and a CAN bus interface allows simple integration into existing vehicle architectures. The multi-band GNSS receiver can monitor all global constellations (GPS, GLONASS, BeiDou, Galileo, QZSS, NAVIC, SBAS) and simultaneously track up to 80 channels. The module has RF and baseband support for the L1, L2 and L5 GPS bands and their international constellation signal equivalents.
The IMU sensor array includes a triple-redundant, three-axis MEMS angular rate sensor, and a triple-redundant, 3-axis MEMS accelerometer. Additional specifications include operating temperature range of -40° C to 85° C, and qualification to standard automotive shock and vibration levels.