With the development of an adaptive, multi-view light sheet microscope and a suite of computational tools, a research team led by the Howard Hughes Medical Institute in Ashburn, Virginia, has captured the first view of early organ development inside a mouse embryo.
Such capability is critical for scientists trying to grow or regenerate organs, or to address developmental problems that arise in utero. The clearest views of living embryos until now came from fish and flies. The researchers developed the first "digital embryo" of the zebrafish often studied by scientists a decade ago. Fish embryos were scanned with a light sheet microscope, which shines ultrathin sheets of laser light through samples, section by incremental section. Computer programs analyzed the imaging data, and the result offered a high-resolution glimpse into the first 24 hours of fish development.
Keeping mouse embryos alive in the lab poses more challenges compared with fish and insects. The embryos must be kept sterile and submerged in a nutrient solution. Sensitivity to light and inability to keep the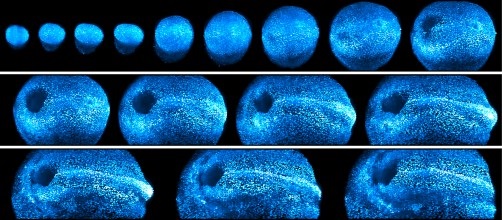 A new light sheet microscope gives scientists a window into mouse development. Source: K. McDole et al./Cell 2018embryo still under a microscope have also limited the use of mouse embryos.
A light-sheet microscope tailored for this application adapts itself to the rapid growth changes in size, shape and optical properties of the mouse embryo and captures such development at the cellular level. Two light sheets illuminate the embryo as two cameras record images, revealing dynamic events in high-resolution detail no one has seen before.
Algorithms track the embryo's position and size, map how the light sheet moves through the sample and then determine how to secure the clearest images -- all while keeping the sample focused and centered in the field of view. The microscope constantly adapts to keep pace with the constantly changing embryo, making decisions in milliseconds over hundreds of images.
The researchers collected nearly a million images for each embryo studied and then designed a computational toolkit to stitch together a picture of each embryonic cell's developmental arc. Combined with a statistical vector flow, the team could work backwards to discern where each cell in an eight-and-a-half-day-old embryo came from.
Scientists from Université Côte d'Azur (France) and Chan Zuckerberg Biohub (California) also contributed to this study, which is published in the journal Cell.