Scientists from the Morgridge Institute for Research have developed a light-sheet microscope that can be easily shared among labs across the world. The microscope, nicknamed "Flamingo" due to its one-legged stand and vertical profile, can be mailed to a lab anywhere in the world.
Light-sheet microscopes light up a sample with non-invasive sheets of light that allow the scientists to view the sample at every possible angle. This allows the researchers to create lots of data quickly with a 3D view of the sample.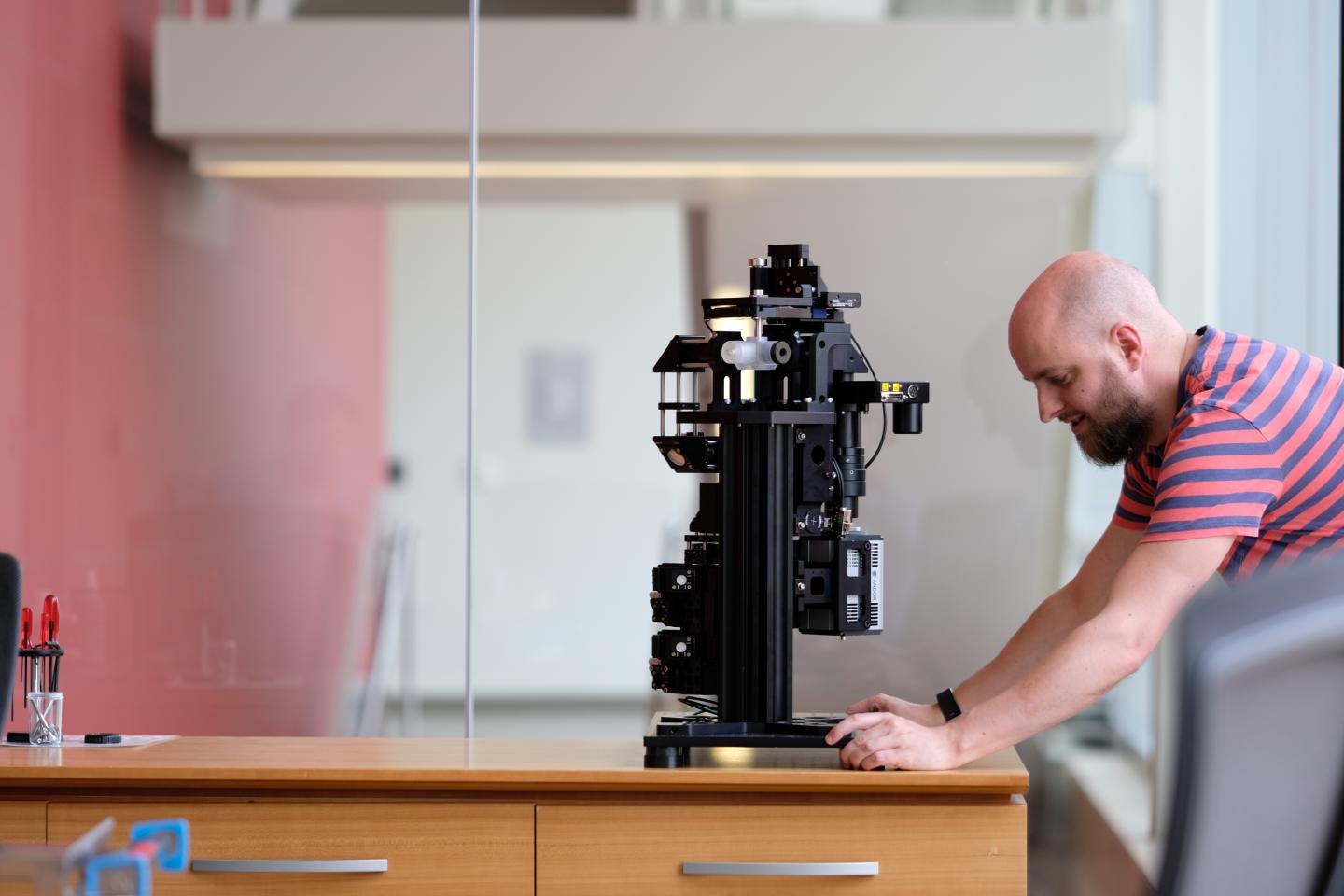 Morgridge Institute postdoctoral fellow Rory Power inspects the completed 'Flamingo' light sheet microscope, which at a little over 40 pounds can be mailed to biology labs around the globe. Source: Jan Huisken
Previous light-sheet microscopes have been bulky, difficult to transport and impossible to customize. Teams would often have to travel to a nearby light-sheet microscope, adding travel costs and wasting time. The new microscope solves all of these issues and makes light-sheet microscopy available to all labs, no matter where they are located.
Flamingo will first be used by researchers studying zebrafish. The 3D view of zebrafish embryo samples allows the team to view fish development in an unaltered state, something that has been difficult to achieve in the past. The researchers can use the images gathered with Flamingo to create movies of the embryo, limb and organ development of zebrafish.
Flamingo can run one to three months of experiments before being shipped off to the next lab. Because the microscope can be used by many different research teams around the world, future fixes and improvements could be crowdsourced. After a team uses Flamingo, they could tell the microscope's home team what needs to be improved and changed, and the home team would improve from there.
Flamingo is completed and ready to use, but there are some small improvements that the team is making. One of these improvements includes building software for real-time desktop and mobile access to the data that Flamingo is producing.