Clovity - Microsoft Gold Partner, Atlassian Solution Partner and CIO's Top IoT Solution Provider - has announced an accelerated focus on building a best of breed technology ecosystem to support the needs around the creation of a smart city. With the development of 5G wireless technology and the maturity of IoT & connected devices, the "city of the future" is here.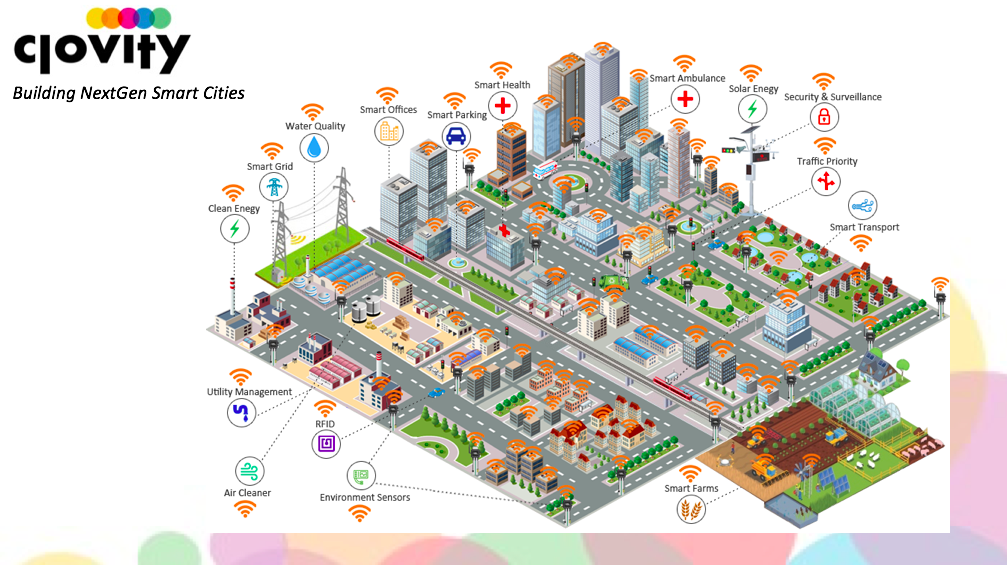 Smart cities will help people via mobile apps that help us find and reserve parking spots in major cities, tell our cars where pot holes exist, unlock your office door and turn on your computer before you even arrive at work. But few, if any, have tied all these services together in one system. Source: Clovity
5G is allowing data transmission at speeds of 20 gigabits per second that ensures seamless transmission of data from millions of applications and IoT devices and provides real-time actionable insights. Soon many cities across the United States and other international cities will begin to see smart lighting, metering, grid, traffic, roads, parking, energy, farms, mobility, pedestrian transport, buildings, emergency response services, healthcare, energy and infrastructure. To support the huge amount of data that will be produced, ingested and analyzed daily, technology innovators are focused on leveraging its expertise to build large scalable solutions to support the needs of the smart city.
Security and scalability will be the determination of whether these new technologies truly succeed in making an urbanite's life as seamless and data-driven as possible. A cohesive mindset is needed to drive smart city technology creation and proliferation so that safety is paramount and scalability is common.
To learn more about the new developments for smart cities, visit the Clovity site.