Initiatives inside of a smart city are forecast to attract technology investments to the tune of more than $81 million globally this year and the investment will grow to $158 billion by 2022, according to market research firm International Data Corp. (IDC).
Smart cities are urban areas that use internet of things (IoT) sensors and technology to connect people and devices together across a city to gather information as well as to improve citizens' lives. These connections might be done via a mobile app or through municipalities' communications channels in order to help residents or visitors avoid traffic jams, find a parking space, report accidents, adjust smart lighting to reflect different times of day, find an autonomous vehicle for ride sharing and more.
Some of these projects have already begun. Just this month Drive.ai launched a pilot program in Frisco, Texas for an on-demand ride-hailing service that will use artificial intelligence-powered autonomous technology. Waymo, the self-driving wing of Google, launched its Early Rider program about a year ago with the goal of gearing up for a wider rollout of self-driving vehicles across the country that would work with other city-wide mobility and connectivity services. Another project from Signify and American Tower placed an intelligent smart lighting system in Huntington Beach, Calif. that supports wireless connectivity for multiple mobile networks.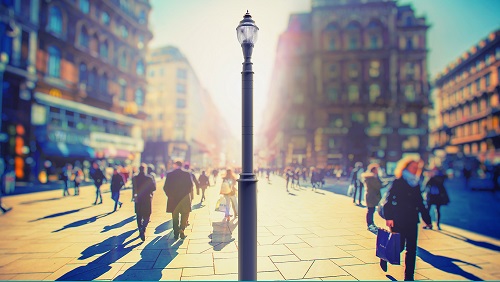 The smart lighting project installed by Signify in Huntington Beach, Calif. Source: SignifyThese beginning stages of smart city initiatives are likely to be some of the first types of features that come to major metropolitan areas.
According to Bettina Tratz-Ryan, research VP for smart city and infrastructure at Gartner, the smart city will initially consist of the smart grid, smart transportation and smart economy and then transition to features like knowledge community, livable city, sustainable environment, mobile and active society and citizen empowerment. While technology will move many of these initiatives forward, citizens will look to city leaders to provide more context focused services and experiences, Tratz-Ryan said.
"One of the most pressing concerns in cities is around mobile and active society, as well as public ambiance that includes safety but also the ability to handle health issues through pollution or support vulnerable citizens," Tratz-Ryan said. "Therefore, location-based information becomes a critical source of data to support those initial services. Those will include the location and journey map for parking locations, or traffic congestion, which impacts air quality as an example."
These general applications are likely to come first in the smart city. But it will be hard to pinpoint a single feature that will spread across multiple regions or cities because different cities are focusing on different features depending on their way of life, funding and existing physical infrastructure, said Noman Akhtar, analyst for smart cities at IHS Markit.
However, Akhtar agrees that smart metering — including residential and commercial utility meters — and smart lighting will be the first projects to see major adoption across developed and underdeveloped countries as these projects pay off investments quickly and improve the standard of living in cities.
Smart metering is a mature feature of a smart city: deployments have been happening since 2006. The metering helps utilities track energy utilization and helps them pre-plan energy generation demand and makes the ecosystem more efficient. Smart lighting reduces the amount of energy a city needs by dimming the lights when not needed, and paves the way for other features related to security and connectivity such as cameras, environmental sensors and other IoT devices.
IDC sees the largest spending use cases in visual surveillance, advanced public transit and smart outdoor lighting. By 2022, intelligent traffic management will be one of the largest investments in a smart city and there will be an uptick in officer wearables and vehicle-to-everything (V2X) connectivity.
What Comes Next?
Projects for smart parking on both streets and inside enclosed structures such as parking garages are likely to come to smart cities after the establishment of smart lighting, smart transportation and smart metering. This will happen simultaneously with the implementation of security and connected infrastructure using the setup laid down by smart lighting.
"The blockade at the moment is the lack of connectivity at locations blocked by buildings and citizens' privacy concerns, which would be overcome once the authorities come up with citizen-supporting policies," Akhtar said. "One example of such policy is the EU's new GDPR regulation, which gives the ownership of the data back to citizens."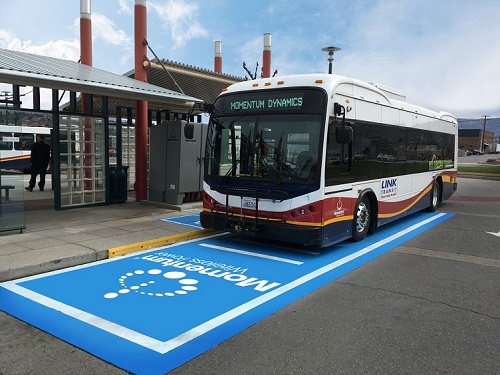 Smart transportation projects such as the wireless recharging for electric buses may be one of the first initiatives in the smart city. Source: Momentum Dynamics Akhtar said another project that has potential is smart ticketing for public transportation in order for metropolitan cities to enable frictionless travel.
Tratz-Ryan said that many cities will turn to operational efficiency as a next step, with many municipalities encouraging ecosystem development with the private sector and the industry as well as citizens taking a stake in smart city development. This could come in the form of citizens voicing opinions or collecting/sharing data on air pollution, traffic and other problems. This could also play a role in real estate development where space will be developed with service and concierge functions as well as the smart home in mind.
"Urban planning will be using geo data to understand the impacts of mobility as a service with bike and car sharing on the design of parking and street lanes," Tratz-Ryan said. "Autonomous buses, electric vehicles, will yet require a different set of road and mobility infrastructure to be successful. Therefore a lot of simulation of use cases that are required and we see cities using digital twin simulations to drive decisions."
What's in the Far Future?
Projects that may take longer to develop include remote medical-related operations and monitoring, fully automated ground and aerial transportation vehicles (such as air taxis) because these will require legislators to define new standards and the technology needs time to mature, Akhtar said.
Tratz-Ryan agreed that health and elderly care in smart cities will be dependent on the ability of the government to work with industry players to agree on disclosure terms and ethical boundaries. While there will be some projects related to this emerge, until these aspects are developed it won't be deployed on a large scale.
"Fully autonomous mobility through drones and cars could be very far-reaching in cities for a long time," Tratz-Ryan said. "There are initial approaches were cities like Dubai having a clear vision on this, but in many other countries, fully autonomous traffic will be based on the mix of vehicles and asset a vision of the future. That has also to do with the ethical vs analytics discussion on legal responsibilities and digital inclusion factors."