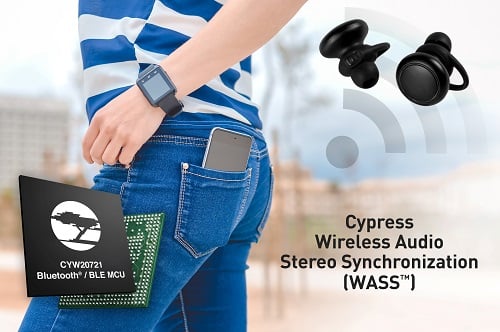 The Bluetooth audio solution extends the range for earbuds from pockets and watches. Source: Cypress SemiconductorCypress Semiconductor Corp. has introduced a Bluetooth audio technology for wireless earbuds and hearables that combines the new Wireless Audio Stereo Synchronization (WASS) applications and Cypress' Bluetooth and Bluetooth Low Energy (BLE) audio microcontroller.
The combined Bluetooth solutions feature a link budget that is 6 dB better than competing solutions, resulting in twice the range, Cypress said. This extended range enables cross-body performance for uninterrupted audio on earbuds with smart devices in the back pocket or on a wrist. The solution also operates at 50 percent lower power consumption than other solutions for twice the playback time and for integration into smaller form factors using smaller batteries, Cypress said.
The CYW20721 chip employs WASS software with the multi-mode Bluetooth/BLE MCU and includes consumer features such as voice commands and cloud-based voice services.