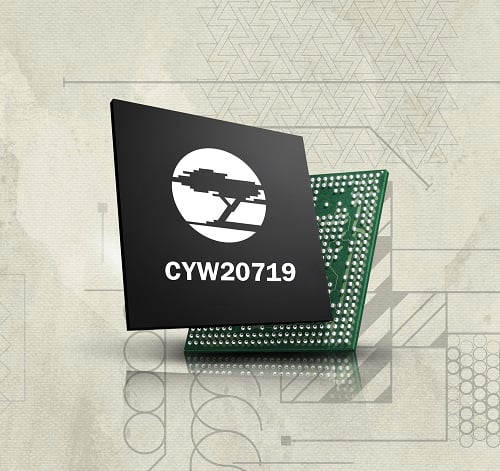 The Cypress CYW20719 MCU. Source: Cypress Semiconductor Cypress Semiconductor Corp. has been certified in what it claims is the first single-chip Bluetooth mesh offering by the Bluetooth Special Interest Group (SIG).
Cypress' technology allows for a low-cost, low-power mesh network of devices that can communicate with each other via a simple, secure Bluetooth connection, including devices such as smartphones, tablets and voice-controlled home assistants.
Within a Bluetooth mesh network, devices within the network communicate with each other to provide coverage throughout homes. Previously, a device had to be in the vicinity of another Bluetooth device to control it without an added hub.
Recently, Ledvance introduced a series of light emitting diode (LED) lighting products that were the first Bluetooth mesh devices for lighting. These devices utilize Cypress technology. ABI Research forecasts that more than 57 million Bluetooth smart light bulbs will be in use by 2021.
Cypress' CYW20719, CYW20706 and CYW20735 Bluetooth and Bluetooth Low Energy (BLE) combo device and CYW43569 and CYW43570 Wi-Fi® and Bluetooth combo products are compliant with Bluetooth mesh.