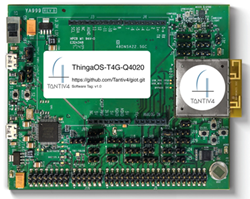 The Dev-kit. Source: Tantiv4Tantiv4 is bringing new capabilities to Qualcomm Technologies' QCA4020, QCA4024, QCA4012 system-on-chips (SoCs) for smart home by supporting the Google Cloud IoT platform on connected devices. These SoCs provide a range of connectivity options. Among these options is a tri-mode intelligent connectivity SoC that supports Wi-Fi, Bluetooth 5.0 and 802.15.4 in the case of QCA4020.
With Tantiv4's support, OEM's can more easily leverage Google Cloud IoT Core and Google Cloud Platform compatibility for their products. OEM's can optimize their IoT device integration using Google Cloud IoT Core, Google's fully managed service that allows users to easily and securely connect, manage and ingest data from millions of globally dispersed devices. Google Cloud IoT Core, in combination with other services on Google Cloud Platform, provides a complete solution for collecting, processing, analyzing and visualizing IoT data in real time to support improved operational efficiency. This is designed to improve and bring efficiency to the process while reducing the costs and development time.
This platform is available now at Tantiv4.