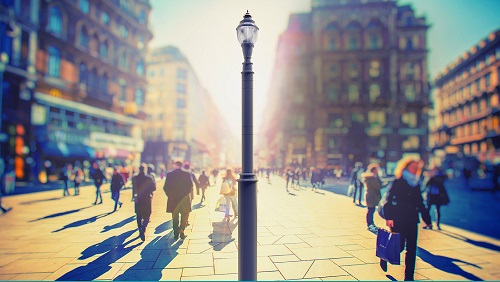 An artist rendition of the Smart Fusion Pole. Source: American TowerAmerican Tower and Philips Lighting have teamed up to develop the Smart Fusion Pole, an energy efficient light emitting diode (LED) street light that also provides support for wireless broadband connectivity.
Announced at the 2018 Mobile World Congress, the Smart Fusion Pole blends into an urban landscape providing bright light while simultaneously offering wireless capabilities for multiple mobile networks.
The city of Huntington Beach, California, is the first city in the U.S. to use the Smart Fusion Pole. The agreement between the city and American Tower will give exclusive access to 200 existing light pole locations for deployment of the Smart Fusion Poles. These locations are located along the Pacific Highway and downtown areas.
The LED street lights include integrated antennas that are concealed and can support services from multiple mobile operators on a single pole. The idea is for small cell deployment to help solve network challenges and its plug-and-play design makes it future-ready for next-generation wireless technologies such as 5G and the internet of things (IoT).
"We want to be a leader in smart city initiatives to provide residents, businesses and visitors a better city experience and quality of life," said Mike Posey, Mayor of Huntington Beach.
A demonstration of the Smart Fusion Pole is available at the 2018 MWC show, taking place this week in Barcelona, inside the Ericsson booth.