Arduino has been a staple in the maker community for years as one of the go-to developer boards for devices made for fun from tinkerers or hobbyists. In recent years, Arduino has become a board that is used by professionals and big business in order to prototype various parts or systems that are in development as well as bring new devices to the IoT.
The company attended the recent Maker Faire Bay Area in San Mateo, California, bringing new innovations to market including a smaller form factor board that includes the first-ever field programmable gate array (FPGA)-microcontroller board and a new connectivity board for future IoT applications.
Fabio Violante, CEO of Arduino, put aside some time to talk to Electronics360 about these latest Arduino innovations, where the company is headed in the coming years, the importance of STEM and the variety of new boards that have come out on the market in recent months.
At Maker Faire Bay Area this year, Arduino introduced two new boards. Can you give me some background on these products and what they will be used for?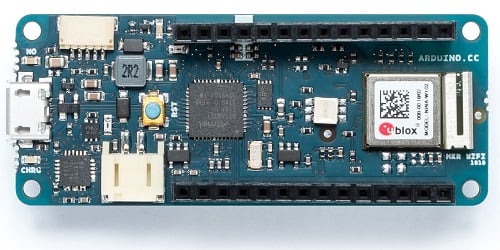 The MKR version of the UNO WiFi board. Source: ArduinoWe introduced new innovation targeting our internet of things strategy. There is a huge community of people that use Arduino as a professional tool. When it comes to IoT, we created a specific strategy in a more compact form factor of boards called MKR.
The MKR format combines all the ingredients of an Arduino but in a smaller board that can be used to create a secure IoT node. We introduced the first Arduino board that combines a microcontroller with an FPGA called the MKR Vidor 4000. This is important because it can be used for a wide range of IoT applications with a distinctive form factor and power for high performance. We aimed the MKR Vidor to democratize and simplify access to the world of FPGAs, which opens up a whole new way to make IoT devices. We also launched a new Uno Wi-Fi board that is targeted at IoT applications that need connectivity.
Are these new boards the result of the Arduino community asking for them, or are they something the company thought would be necessary for the market?
There was a need for a more compact form factor. We received requests for a smaller Arduino with more connectivity. It is more of a trend to create a smaller form factor and there is a need to. The MKR product is an entire strategy for IoT where we basically allow people to use these boards for prototyping. The boards can be mounted on custom PCB, this allows customers to simplify the process.
Can you give me some examples of how big businesses are starting to use Arduino?
An automotive company uses it for prototyping some parts of their self-driving car strategy. Another automotive company is using it to do testing of the interior of the car. There is another company that makes IoT devices and they told us at Maker Faire they are using Arduino to test the finished product before it goes to market.
As the new CEO, what is your vision for Arduino? Where do you see it heading in future years?
I think the vision for Arduino for the next few years is based on three major pillars: One is the maker pillar, where we will make and create software and hardware for makers. Second is education; we try to create formalized programs for classrooms and also higher-level education at university level (the Arduino Engineering Kit). Third is the IoT and professional space - what we are aiming at as people embrace using Arduino as a device to bring products to market.
We are developing both a cloud services side as well as the hardware side for this. We are looking to either the second half of this year or the first half of 2019 to develop our cloud services and connecting things together. The idea is to allow people to connect devices easily to the cloud but developing an IoT platform as a service so people can also develop an application for use in the cloud.
Over the last year or so, there have been a number of new competing boards that have come out. How is Arduino keeping pace?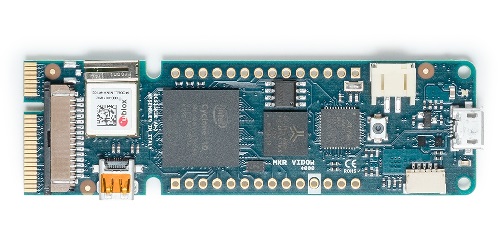 The MKR Vidor 4000 combines a microcontroller and FPGA in a slim form factor. Source: Arduino In the past few years, the world has split between the Raspberry Pi and the Arduino. I think the Arduino tries to solve a different problem than the Raspberry Pi. However, while we may compete in some areas with these boards that have been developed, we view these boards as more complementary to Arduino. Many people in IoT right now are coming from the embedded or software world; we are looking at this and trying to create simple parts so these developers have a clearer path to become a user of Arduino but also Linux-based computers.
What are some of the coolest projects you have seen made with an Arduino?
There are so many projects that it is tough to capture them. But there are all kinds of devices from pet feeders to biohacking projects. People that have made projects for visually impaired people. There is a wide range, and it is difficult to track down how many there are.
How important is STEM/STEAM today and how important will it be in the future?
This is a very important topic and trend. In the U.S., we are advanced in STEAM/STEM education but we see this happening in other European countries. Spain and Latin America are using Arduino — more than 18,000 students last year — and Italy and France are catching up as well. In China, Arduino is becoming one of the most important topics in private school. We see this trend becoming stronger in developing nations too. In India, they do not buy original boards because they can't afford them or the custom fees are too high. But they are one of the largest communities of Arduino users in the world in the classrooms. STEAM is going to continue to be more important in the world moving forward.
We are making boards to make the lives of the students more simple and the lives of the teachers simple so they can create projects that will not only give them experiences in technology and engineering but projects that are fun and they want to do.