Sager Electronics, a North American distributor of interconnect, power and electromechanical components and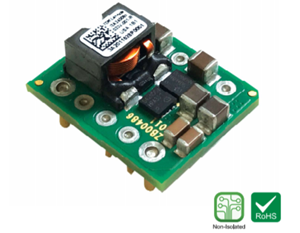 Source: Sager Electronicsprovider of value-add solutions, is now stocking TDK-Lambda's i3A Series of 100 W non-isolated DC-DC converters.
TDK-Lambda's i3A power modules perform local voltage conversion from a 12 V, 24 V or a well-regulated 48 V bus. The i3A series utilizes a low component count that results in both a low-cost structure and a high level of performance. The open-frame, compact 1/32nd brick design features a low profile and weight that allows for extremely flexible and robust manufacturing processes. The ultra-high efficiency allows for a high amount of usable power even in demanding thermal environments.
The i3A series features a wide output adjustment (3.3 to 16.5 V or 5 to 30 V), constant switching frequency and requires minimal external components.
Also available from Sager Electronics, TDK-Lambda's i6A series of 250 W, non-isolated, DC-DC converters, featuring up to 250 W of output power in high ambient temperature, low airflow environments with minimal power derating. Click here to learn more about the i6A series.
The new i3A series of non-isolated DC-DC converters from TDK-Lambda are in stock at Sager Electronics.