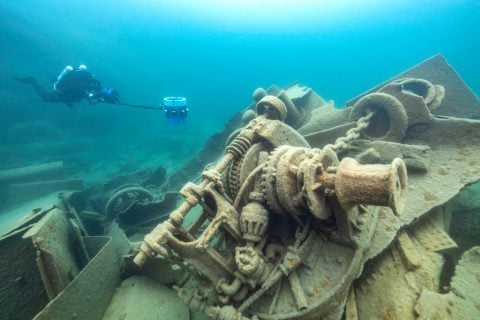 Source: Marine Imaging Technologies
Marine Imaging Technologies has revealed HYDRUS VR, a new 8K underwater cinematic virtual reality (VR) system. HYDRUS VR incorporates the newest version of the SONY low-light camera, the UMC-S3CA, and custom SLR Magic E-Mount lenses.
HYDRUS VR was over two years in the making. Conceived and designed in 2016, the prototype was built in the Cape Cod facilities in 2017. After discussions with SONY, the camera array was redesigned to facilitate the soon to be released SONY UMC S3CA, their popular UMC cinema camera with their newest low light sensor. By March 2018, production partner Digital Quilt was stitching test footage of reefs off the Cayman Islands and HYDRUS VR has just returned from the Isle Royale in the Great Lakes.
HYDRUS VR was designed to be simple and intuitive, allowing the storyteller to focus on the subject and the story. It can be diver operated, with a depth rating of 300 m, and it can be incorporated onto underwater robots as well. It has 8-12K stitched spherical and 3D resolution. There is a custom control system for camera presets, on-the-fly exposure control, a visual sync point for all cameras, real-time monitoring of the primary camera or multiple cameras, and visual and audio alarms for vacuum loss and water intrusion.
Visit MITech to learn more about the HYDRUS VR.