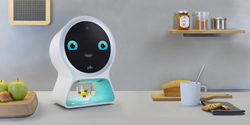 The Pillo home health care robot. Source: Pillow Health
Pillo Health announced that it is collaborating with AARP on a study using Pillo, a digital health companion, on disease management for patients who have recently been diagnosed with diabetes. AARP and Pillo Health will evaluate how Pillo can empower participants to better manage their health and connect them to caregivers. Pillo uses voice-first technology, facial recognition and artificial intelligence to engage with the user.
Pillo Health helps adults with chronic conditions. In the study, Pillo will engage patients through medication management, care plan delivery, conversational interactions and video check-ins. The device stores and dispenses medications using its medication delivery system. This system is loaded by the user or prefilled via mail-order pharmacy.
AARP and Pillo Health have identified an unmet need for in-home solutions that empower individuals to better manage their health and live independently. This study will focus on diabetes, which affects one in 11 Americans and costs the U.S. health care system an estimated $322 billion annually.
Starting today, AARP staff and visitors can see and interact with Pillo at The Hatchery, an AARP innovation lab based in Washington, DC.
This project was conceived as part of the PULSE@MassChallenge program, a Boston-based digital health accelerator.
To learn more, go to Pillo.