Tracking heart problems with bluetooth-rigged scales. Using sensors to detect and notify individuals and healthcare professionals about changes in blood sugar levels. Texting tips to help people quit smoking or take care of a newborn baby. The crossover between traditional healthcare and mobile technology has arrived, and it's going global. Quickly.
The idea of mobile health and how technology can help address serious medical issues, such as the epidemic of heart disease and diabetes, has been on the world stage for a few years. But now collaborations between mobile device and service companies and governments are starting to produce results.
This was in evidence last month at the mobile industry's biggest annual global event, the Mobile World Congress, where Nancy Brown, chief executive officer of the American Heart Association, and Paul Jacobs, chairman and chief executive of Qualcomm Inc. shared the limelight and delivered "prime time" keynote speeches. Though they come from different ends of the technology spectrum, their message was the same: Mobile technology is being used to change lives, educate people about healthier habits, reduce mortality rates for chronic and non-communicable diseases, and lower healthcare spending.
"There is a healthcare disruption happening today," said Brown. "With the rise of mobile technology and a hyper-connected society, we can deliver more personalized care to the people who need it the most. Mobile health gives us new ways to think about disease prevention and treatment."
The theme continued in smaller, packed rooms over the four-day conference. Doctors, patients, patient advocate groups, health organizations, non-governmental organizations (NGOs), government agencies, mobile operators, device makers, academics and groups working on device interoperability standards talked about the viability and value of scaling mobile health initiatives.
Most pressing on people's minds was how to deal with the alarming rise in health issues, in particular heart disease and diabetes. Heart disease is the number one cause of death in the world. Every three seconds someone is diagnosed with diabetes and every seven seconds someone dies from diabetes-related complications, according to Michael Morgan-Curran, GSMA's global director of mHealth & diabetes program director.
As chronic and non-communicable diseases become epidemic, and medical costs to treat them rise, it's not surprising that there is a correlating increase in the number of devices and services aimed at making care for patients more manageable while at the same time containing costs. According to GSMA's Morgan-Curran pointed out, mobile health could reduce healthcare costs in OECD (Organisation for Economic Co-operation and Development) countries by more than $400 billion by 2017.
In the United States, for example, the remote cardiac monitoring market is predicted to grow significantly in the next five years, according to IHS. From $686 million in 2011, IHS is forecasting the market to increase 27 percent to $867 million by 2016. One of the main drivers stems from the pressure healthcare providers are under to cut costs; gathering data on patients outside of the hospital environment is one way to reduce spending.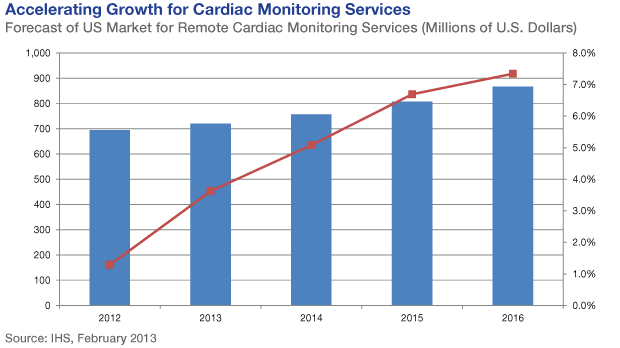 Today, chronic heart failure patients account for the majority of global telehealth patients, meaning at-home patients who remotely monitor and exchange physiological data with healthcare providers or hospital medical staff, according to IHS. Besides being one of the largest hospital-related cost burdens, the clinical outcomes of telehealth for chronic heart failure patients are the most established, making it a good place to start for mobile or telehealth programs.
The potential for remote cardiac monitoring resonates with Dr. Josep Comín Colet, a cardiologist and the head of the Heart Failure Section at the Mar-Litoral Integrated Heart Failure Program at Hospital del Mar in Barcelona. Dealing every day with an aging population naturally more prone to chronic heart failure and mandatory government-imposed budget cuts, Comín Colet and his team developed a program that would remotely monitor patients, deliver quality care, improve medical outcomes and lower repeatable hospital visits or stays.
The mobile health program Comín Colet, who is also involved with the hospital's Institut Municipal d'Investigació Mèdica (IMIM) - the Municipal Institute of Medical Research, set up in 2008 with mobile operator Telefonica involved 200 high-risk chronic heart failure patients, averaging 77 years old. The program integrates primary care treatment with remote care from licensed nurses and cardio heart failure specialists. Using special remote monitoring terminals fixed with bluetooth technology, patients send their weight, heart rate and blood pressure data to a nurse. If there's a problem or the patient misses a day, a nurse calls to check in; if additional attention is required, the doctor and the patient connect on a video conference call.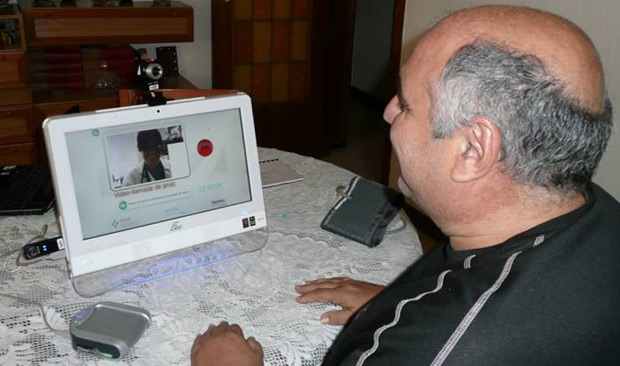 An IMIM home-care patient talking with his healthcare provider and sharing real-time health data.
The result has led to a significant drop in mortality rates, according to IMIM. And surprisingly, more than 90 percent of the patients said they like the set-up and would continue with this kind of interaction, proving that technology adoption among an older population was not as big a problem as was first anticipated, he added.
"The medical system has long been reactionary. We handle acute issues very well. But as we treat patients, we don't often empower them to better manage their problems or have more control on their care," Comín Colet said. "These kinds of mobile or remote monitoring programs are tools that can help many people."