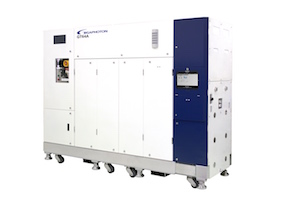 The GT65A meets the growing demand for semiconductors in recent years. Source: Gigaphoton
Gigaphoton Inc., a major manufacturer of lithography light sources, has updated their ArF excimer laser for advanced immersion exposure (lithography) devices. The new technology of the GT65A significantly contributes to the rise in productivity of lithography equipment by providing stable operation of the laser and improvement of process margins. The GT65A meets the growing demand for semiconductors in recent years.
Katsumi Uranaka, president and CEO of Gigaphoton, commented: "With the boom in recent years of the semiconductor market, improving the availability of lithography equipment is an important issue for each manufacturer. With the new technology in line with our new roadmap 'RAM Enhancement,' we have further strengthened and improved the reliability, availability, and maintainability of lithography light sources, contributing to the semiconductor manufacturing industry."
In recent years, semiconductor applications have been steadily expanding, from automobiles to finance, medicine and agriculture, and the need for cost reductions and yield improvements amongst semiconductor manufacturers is higher than ever. In order to meet the explosively expanding demand accompanying the ongoing shift to 3D NAND memory, Gigaphoton is updating a number of its laser products, aiming for higher performance and durability.
The GT65A will deliver a 50 percent reduction in service downtime. This key feature is realized by increasing chamber lifetime by 30 percent as well as improving maintenance efficiency through the utilization of extensive service data expertise acquired through many years of successful service execution. Furthermore, the GT65A has successfully eliminated the need to use helium gas, reducing risks associated with future helium gas supply deficits and price increases.
For more information on the GT65A, go to Gigaphoton.