KinderLab Robotics has announced the release of the Free Throw, a throwing-arm attachment for the KIBO robot. This arm allows the KIBO robot to toss ping pong-sized balls. This extension set encourages learning of forces, motion and energy in a playful and fun way.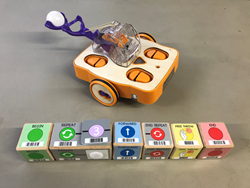 The throwing arm for the KIBO robot (Source: KinderLab Robotics)
KIBO robot is designed to teach children to build, program, decorate and bring a robot to life without screen time. Students plan a coding sequence using the programmable wooden building blocks, scan their sequence with KIBO, press its button and the robot starts working.
With the Free Throw attachment, students can code KIBO to drive to the basket and shoot, hit a target and play games. With rubber bands and ping pong-sized balls, students can throw high or shallow, long or short. The students explore the basics of physics and mathematics with the robot. The topics they can explore include trajectory, inertia, measurement and force. Children can experiment with different throwing options; then re-load the Free Throw and launch again.
With KIBO, young children can become programmers, engineers, designers, artists, dancers, choreographers and writers. The KIBO robotics kit is based on more than 20 years of research in learning technologies and child development at Tufts University, including testing with thousands of children, teachers and parents.
The Free Throw attachment is now available from the KinderLab Robotics store.