Researchers from Cornell University's Sibley School of Mechanical and Aerospace Engineering have created a social robot that can be customized with crafting materials. The research team said that the warmer materials, such as textiles and machined-wood appendages, give the robots a more hospitable and friendlier feel than traditional plastic and metal robot materials.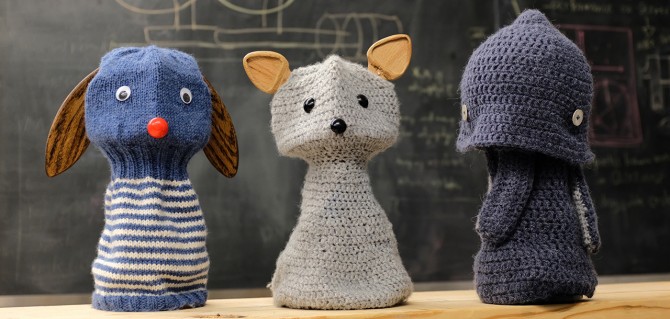 Blossom robots can be constructed by users from handcrafted materials, making each one a little bit different. Source: Cornell University
The new robot, named Blossom, is easy to build and inexpensive. Soft materials provide a welcoming exterior, and are used in the robot mechanisms to provide an imperfect and organic sense of presence. Soft linkages, such as strings attached to motors, provide head and arm articulation.
The team's goal was to create a robot that encourages people of all skills to build their own Blossom that they customize. Researchers, for example, could use Blossom in studies, or teachers could employ it to teach their students about robots.
To test Blossom's popularity with children, the team gave children the chance to control Blossom and make accessories for the robot at a science fair. The children's ages ranged from four to eight years old. Some children made accessories for Blossom, like extra appendages or jewelry, while others controlled the robot to attach the new items. This evaluation showed that Blossom can be successfully used with children.
The researchers are currently working on training Blossom to react to YouTube videos. They are pursuing this because previous research has shown that people are more likely to trust and relate to a robot that reacts to sound in the same way that they do. This is useful when using Blossom with autistic children.
A paper on Blossom was published in ACM Transactions on Human-Robot Interaction.