My Loopy from LocoRobo Innovations is one of the first robots made for kids as young as four years old that doesn't require an app. Loopy's artificial intelligence (AI) and sensors allow Loopy to learn and grow over time, personalize its responses to the child and react to its surroundings. It responds to touch, light, sound, proximity, temperature and motion with more than 250 phrases and responses.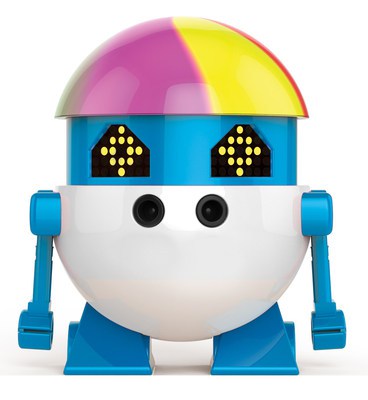 Source: LocoRobo Innovations
My Loopy has four levels of play to unlock. Each level opens new games, features and personality quirks. Loopy's eyes and bright, rainbow-colored dome will reveal what the robot is feeling. My Loopy responds to touch and its surroundings through seven built-in sensors.
Loopy doesn't require an app but there is a free one available for more games and personality traits. The My Loopy app unlocks an early coding platform, teaching valuable STEM skills.
Loopy features five games. In Simon Says, Loopy displays light patterns on its dome — tilt him toward the lights in the correct order and the game keeps going for six levels. In the Color Game, Loopy displays three colors on his dome and calls one out for the user to identify. Tilt him in the direction of the color six times to win. In Hide and Seek, someone else hides Loopy while the child counts. The child then has 60 seconds to find Loopy and pick it up. The Follow Game requires the user to follow Loopy's commands to shake it, clap hands, tickle it and more. Complete six actions to win and master the bonus round by repeating all six steps in order. And finally, in the Running Game, Loopy gives instructions to run fast, slow and then STOP! The user must react quickly to win the game.
In Dancy Party mode, DJ Loopy plays one of seven songs while its dome lights flash to the rhythm. Loopy has a built-in sensor-fusion technology that lets it know when the child is dancing.
The free My Loopy app pairs with My Loopy robot to learn STEM skills and coding concepts with a colorful programming block interface. A user can change the color and pattern of Loopy's lights, set his eye animations in motion, give him a script of funny phrases to say, make new music for him to play and more. The Q&A feature in the app serves up fun questions about math, reading, animals, and colors. Answer the questions and Loopy will let you know if you got it right or wrong.
My Loopy uses a modern ARM core computer and is outfitted with seven different sensors that help it understand and interpret its environment. The touch sensor allows Loopy to know when it is being grabbed, rubbed or tickled. The proximity IR sensor allows Loopy to sense what's nearby. The light sensor allows Loopy to respond to changes in light. The temperature sensor allows Loopy to let you know if the room gets too hot or cold. The tilt sensor lets Loopy feel if he's being shaken, dropped, picked up or tilted. The motion sensor allows Loopy to sense when it is moving. And finally, the sound sensor allows Loopy to hear a clap or a loud noise.
My Loopy has built-in AI which enables Loopy to pay attention to what game the users like best, their favorite color, how often they pick it up or play with it.
My Loopy's head has six RGB LEDs that show exactly how it's feeling. The robot runs on a rechargeable battery (250 mAh) that can last for up to four hours of play. It comes with a micro USB charger that will get it back up and running in about an hour.
Loopy does not require any registration, meaning that there is never a name or any unique identifying information associated with an individual robot or with the app.
While My Loopy can connect to the My Loopy app via Bluetooth, no information from the robot is ever stored on the app. Additionally, Loopy has the ability to detect sound, but it does not have the ability to understand spoken words or to record the sound around it, guaranteeing that both adults and little ones are secure.
To learn more about the My Loopy robot, visit its Kickstarter page.