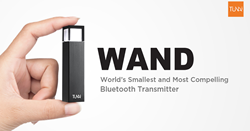 The WAND Bluetooth Transmitter. Source: TUNAI Creative
TUNAI Creative has announced a new product: WAND, the world's smallest Bluetooth Transmitter.
The WAND is the world's smallest Bluetooth transmitter, offering an audio experience with parallel streaming for up to two devices. WAND coordinates audio signals from analog, optical and USB-based devices and supports Bluetooth 4.2 input and three different codecs: aptX, aptX low latency and SBC. By supporting aptX low latency, WAND can offer a lip-sync delay free audio experience when one or two headsets are connected and with a 164 foot/50 meter open-air plus operating range, one of the longest on the market.
The WAND is 2.95 inches tall and looks like a cubic stick. It is made to deliver streaming from television sets, computers and gaming consoles directly to wireless headphones. WAND provides hassle-free audio streaming so users don't have to worry about keeping others in their house awake when watching TV late at night or when someone is working.
The WAND has launched a Kickstarter campaign, and for $15.00, backers will receive the wand with 75 percent off the regular price of $59.99.
The device measures at 0.67 inches by 0.67 inches by 2.95 inches and weighs 0.77 ounces.
For more information, visit the Kickstarter page.