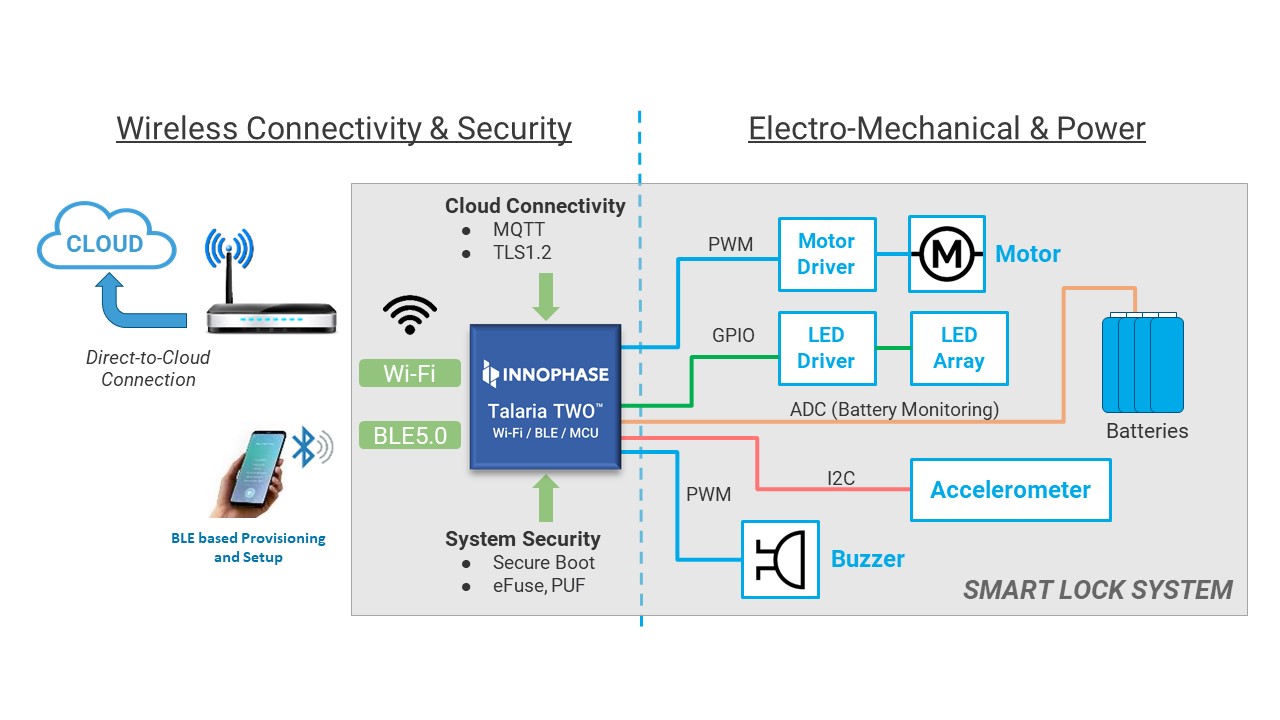 Source: InnoPhaseTurning an ordinary product into a smart product requires some creative engineering. Adding connectivity, control and motion to systems that people use every day raises challenges around size, battery life and functionality. To accommodate smart technology, engineers and designers need to make products smaller and, in turn, the technology has to be small to maintain a similar form factor.
InnoPhase has resolved these issues with Talaria Two system on a chip (SoC) multi-protocol platform, an ultra-low-power Wi-Fi solution.
Talaria Two shrinks the size of electronics by incorporating three key system devices into one: the microcontroller (MCU) for system control and applications processing; internet connectivity (Wi-Fi) for connection to the cloud, remote control and access from anywhere in the world, as well as for system updates and monitoring; and Bluetooth (BLE) local connectivity of the smart device to a smartphone for control or programming.
Because Talaria Two consumes less energy, designers can reduce the number of batteries, say from four to two, or shrink the size of the batteries, for example from AA to AAA. This substantially reduces the overall product size.
Having fewer components also means less cost. In addition to the chip itself combining functionality, the direct connection to the internet requires no additional network (BLE to Wi-Fi) hub.
Sunsa is one of the first companies to incorporate Talaria Two into its product. The Sunsa Wand is a motorized device that automates window blinds. According to the company, it installs on existing blinds and uses Wi-Fi cloud connectivity to open and close them remotely, without the need for an additional network hub. The smartphone app allows users to schedule this process, saving time, energy and money.

Sunsa Wand, smart window blind, powered by Talaria Two. Source: InnoPhase
With Talaria Two, Sunsa is able to package all the electronics, motors and batteries into its wand while making it only slightly larger than a universal blind wand. The Sunsa Wand has an expected 12 or more months of battery life on four standard AA batteries.
Talaria Two enables a wide variety of customer applications. In addition to the Sunsa Wand, smart locks, security cameras, smart speakers, voice assistants and remote sensors can all benefit from this technology.
ABI Research named InnoPhase one of 10 innovators reshaping wireless connectivity while the Consumer Technology Association (CTA) selected the Talaria Two wireless platform for a CES 2020 Innovation Award Nominee in the embedded technologies category.
Talaria Two begins mass production this month. Learn more about it and InnoPhase's digital PolaRFusion radio architecture at innophaseinc.com.