RFMW, Ltd. announces design and sales support for high-power, plastic packaged LDMOS transistors. NXP's MRF300AN and MRF300BN provide RF power in ubiquitous TO-247 and TO-220 power packages offering a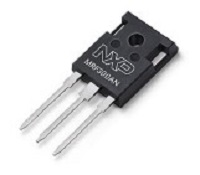 Source: RFMW, Ltd.variety of easy mounting options. Supporting HF and VHF frequencies up to 250 MHz, these 300 W, unmatched transistors are used for ISM, VHF TV broadcast, sub-GHz aerospace and mobile radio applications. They may also be considered for switch mode power supplies. Narrowband reference circuits share the same PCB layout for quickly generating new designs. Gain ranges as high as 27dB with efficiencies to 82 percent. The MRF300AN and MRF300BN offer mirrored pin-outs to support push-pull configurations.
For more information please contact:
NXP Semiconductors Stocking Distributor
RFMW, Ltd.
188 Martinvale Lane
San Jose, Ca. 95119
PH: 408.414.1450