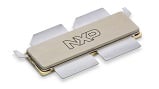 NXP Semiconductors N.V. has introduced its third generation of Airfast products, which include four LDMOS transistors for cellular macro base stations. The Airfast 3 technology meets the stringent requirements of all current wireless standards with wide instantaneous bandwidths to cover an entire cellular band using a single device.
NXP's Airfast 3 delivers high performance in key areas, including efficiency, gain, RF output power and signal bandwidth, while significantly reducing the footprint required to deliver a given level of RF output power. When compared to Airfast 2 transistors, this third generation delivers up to 4% greater efficiency (53% final-stage efficiency and up to 50% lineup efficiency), a 20% improvement in thermal performance, up to 90 MHz full-signal bandwidth, and space savings up to 30%.
The Airfast 3 LDMOS RF power transistors designed for asymmetrical Doherty amplifier architectures include:
A3T18H450W23S: 1805 to 1880 MHz, 89 W average RF output power, 17.2 dB gain, 51% efficiency
A3T18H360W23S: 1805 to 1880 MHz, 56 W average RF output power, 17.5 dB gain, 53% efficiency
A3T21H450W23S: 2110 to 2200 MHz, 89 W average RF output power, 15.5 dB gain, 49.5% efficiency
A3T26H200W24S: 2496 to 2690 MHz, 37 W average RF output power, 16.3 dB gain, 50% efficiency
The transistors are the first Airfast products to be housed in air-cavity plastic packages that combine high RF performance with a lower thermal resistance, reducing overall system heat dissipation.

The transistors are currently sampling with production expected starting in Q4 2016. Reference circuits for various frequencies are also available.