RFMW, Ltd. announces design and sales support for MECA Electronics two-way, broadband, resistive power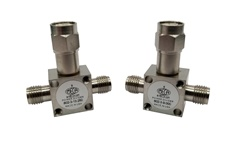 Source: RFMW, Ltd. dividers covering DC-18GHz (802-3-9.000) and DC-26.5GHz (802-3-13.250) via high performance 2.9 mm connectors. Capable of handling up to 1 Watt of average power, amplitude balance of the 802-3-9.000 is 0.5dB maximum and 1.0dB max for the 802-3-13.250. Maximum VSWR is 1.30:1 and 1.40:1 respectively. Ideal for test and measurement applications, both power dividers are available through RFMW, Ltd.
For more information please contact:
MECA Stocking Distributor
RFMW, Ltd.
188 Martinvale Lane
San Jose, Ca. 95119
PH: 408.414.1450