Integra Technologies, a designer and supplier of high-power RF and microwave transistors and amplifiers, offers this insight: "Don't rule out silicon (Si) bipolar, LDMOS, or VDMOS transistors just yet."
The company has yet to obsolete these legacy transistors because they're still in high demand in unique and legacy applications where GaN power transistors don't do the job. In a recent blog, they describe the cases where certain proven silicon devices are still the most ideal choice.
Excerpt:
Several active device semiconductor technologies are available today to amplify pulsed and continuous-wave (CW) signals across narrow or wide bandwidths from HF/VHF/UHF to L-, S-, C-, and X-band frequencies and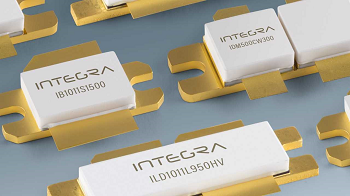 Source: Integra Technologiesbeyond. Recent power transistor technologies, such as gallium-nitride GaN on silicon-carbide (GaN-on-SiC or GaN/SiC) high-electron-mobility-transistor (HEMT) power transistors, are dominating new system designs. But knowledge and insight on well-established, legacy semiconductor technologies such as silicon bipolar junction (Si bipolar or Si BJT), silicon laterally diffused metal oxide semiconductor (Si LDMOS) and silicon vertically diffused metal oxide semiconductor (Si VDMOS) transistors are still invaluable to any high-power amplifier (HPA) designer today.
These technologies are routinely depended on in certain radar system HPA applications where the performance (and often cost) advantages of these device types are still critical to the radar's system-level performance and bill-of-materials (BOM) at-large.
This article provides insight on positions in certain RF/microwave power amplifier block diagrams where silicon technology still rules the roost. Amplification of CW communications signals, for instance, requires "always-on" power from the amplifier along with Class AB or other biasing schemes to create optimum device linearity. And when amplifying pulsed signals, the range of signal conditions can become very complex, such as defined by unique pulse width and pulse duty cycle requirements.
Thermal management becomes the common denominator between the two, and although different types of RF/microwave power transistors are capable of high-power efficiency, no power transistor is 100% power efficient, as some DC and RF power supplied to a power transistor will always be lost as heat (which also must be dissipated). Amplifying CW signals, or long-pulse length or high-duty-cycle pulses, will result in more heat from one transistor technology than another and will vary when compared to handling short pulses or low-duty-cycle pulses.
This blog article describes how in many cases certain proven silicon devices are still the most ideal choice for a radar system's HPA.