In addition to showing off its new technologies for building high-performance filters at IMS2018, which runs June 10-15, 2018, in Philadelphia, AVX Corporation displayed custom-made antenna systems manufactured by Ethertronics.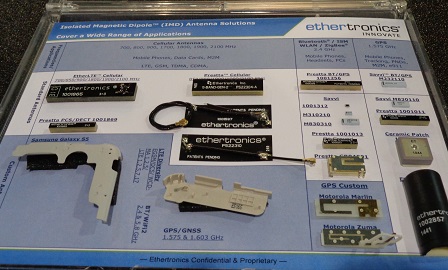 Isolated magnetic dipole (IMD) antenna solutions for a wide range of applications. Source: Electronics360The San Diego, California-based company, a leading manufacturer of high-performance antenna solutions, was recently acquired by AVX. Ethertronics' passive and active isolated magnetic dipole (IMD) antenna systems are used in wireless applications across the mobile phone, Wi-Fi, defense, aerospace, medical and IoT markets. Representatives at the show discussed their manufacturing process, which can be used to build one or more antennas into a customer-supplied mold — with no penalty in terms of radiation characteristics, patterning or efficiency.
Ethertronics is also known for its trademarked Active Steering technology, which continually optimizes antenna direction in real time. This eliminates the "null" areas of low emissions that typically surround passive antennas, making it possible for a single antenna to perform like four. The result is a marked increase in speed, efficiency, reliability and performance. The technology is especially relevant for linking devices hidden behind hard-to-reach spaces or located on the fringes of a network.
For more information, visit the websites of Ethertronics and AVX Corporation.