A new method for quickly and accurately detecting infections has been developed by University of Texas at San Antonio (UTSA) and UTSA Center for Innovative Drug Discovery. The new system can also show just how severe the infection is and how quickly the patient needs treatment.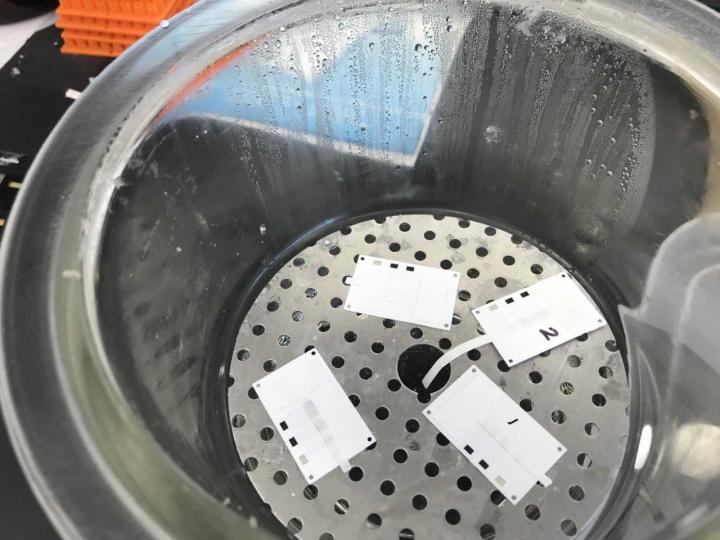 New electrochemical method developed at UTSA to test the presence of a bacterial infection is faster and more accurate than methods currently on the market. (Source: UTSA)
There are a few methods that are used to detect infections. The most common method uses a detection strip. The strip changes color when it comes in contact with infected body fluid. This method can be unreliable because of human error when determining the strip's color, and often requires further testing to determine the type and severity of the infection. Also, one-third of the samples can't be tested with the strip because the sample contains blood or is too opaque.
The other method uses microbiology: it examines body fluid samples under a microscope and counts the number of white blood cells in the body fluid. This method is accurate but it takes a long time and requires microscope operators who are highly trained in this field.
The newest detection approach uses an electrochemical method. In this method, molecules have been created that bind the white blood cell enzymes and produce an electrical current that indicates if there is an infection in the body fluid. The enzymes and molecules are housed on a testing strip. When the strip with the infected fluids is connected to a computer monitor, it displays a range of electrochemical responses that indicate how severe the potential infection is.
Along with testing of everyday infections, the researchers believe that this method could be useful for patients who recently had surgery. After surgery, patients are incredibly vulnerable to infections. Sometimes the infections are minor and only require a little medical attention. But many infections after surgery could be so severe that they can lead to death.
The paper on this research was published in the journal ChemBioChem.