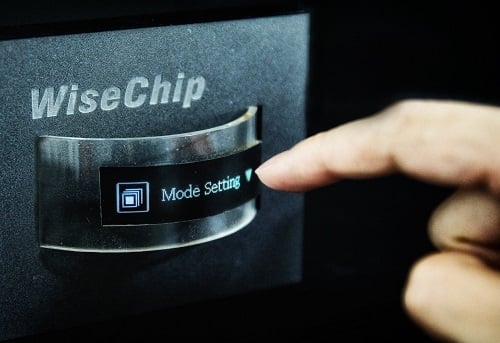 The In-cell Touch technology with flexible OLED. Source: WiseChip
WiseChip will be showcasing its flexible organic light emitting diode (OLED) touchscreen displays at this week's CES Asia.
The company's In-Cell Touch displays are micro-sized, light, ultra-thin, bright and provide wide viewing angles for applications in the industrial, wearable and automotive internet of things (IoT) space.
IDC forecasts the compound annual growth rate (CAGR) for the smart home device market to maintain 18.5 percent and to balloon to 939.7 million devices shipped by 2022. This is up from 433.1 million devices shipped in 2017.
WiseChip said its flexible touch OLEDs will help meet this demand for the next-generation of IoT devices. The company said its In-cell Touch technology doesn't require lamination of the touch sensor onto the OLED because the display supports the touch function itself. This allows for OLED display solutions that can be more quickly developed and have design flexibility for designers.