Increasingly, the new "must have" feature for electronic devices is a flexible display. Flexible displays are lighter, less prone to breaking, and can curve around sides and create interesting display shapes beyond the standard rectangle. Just this week Apple reportedly ordered 70 million flexible display panels from rival Samsung for the upcoming iPhone 8. The flexible Samsung displays are brighter, have better power efficiency and most importantly are flexible. This is a departure for Apple who has up until now relied upon rigid liquid crystal displays for its flagship device, but the iPhone 8 is Apple's ten year anniversary model and they wanted to make a splash.
Up until recently displays haven't been flexible because they were usually LCDs, liquid crystals sandwiched between glass plates. Glass is thick, heavy and cracks easily, traits not exactly ideal for flexibility. What LCDs lacked in flexibility they made up for with everything else, such as contrast and brightness, among other specifications. In addition, Corning Gorilla Glass made glass, and thus displays, more durable. It wasn't until the past decade that flexible technologies could even compete, but now organic light emitting diodes (OLEDs) have caught up in performance with LCDs and displays are about to get a lot more flexible.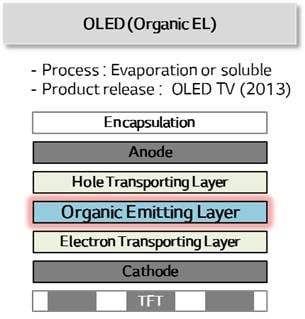 Image Courtesy of WikipediaOLEDs are made from organic light-emitting materials that emit light in response to an electric current. Since OLEDs are emissive, they don't need a backlight like older LCD displays and that saves power and reduces weight. OLED displays are constructed of OLED panels that consist of a substrate, a backplane that contains the driver for the OLED, a front pane that consists of emissive organic material between a cathode and an anode, and an encapsulation layer to protect the device from oxygen and moisture. Touch screen devices usually have an additional layer for sensing touch.
Today, OLED displays generally come in two varieties, passive matrix (PMOLED) and active matrix (AMOLED). PMOLED displays control each line in the display one at a time. This means that most of the time, most of the pixels are turned off, so when they are turned on they need to be brighter. Brighter lines of pixels require higher voltages, which in turn shorten the life of the OLED and make is less efficient. It also limits their size due to limitations on the refresh rate. So why use PMOLEDs at all? PMOLEDs are cheap to make and for smaller, less intensive display applications are good enough.
AMOLEDs consist of an active matrix of OLEDs that are deposited on an active matrix thin film transistor (TFT) plane, which acts as switches for each pixel. Typically an AMOLED displays consists of two TFTs at each pixel, one to provide steady voltage to the pixel, the other to turn on and off a storage capacitor. The storage capacitor maintains the line pixel states of the AMOLED. Since you can have multiple lines on at the same time and thus each line doesn't need to be as bright, less voltage is needed. This means a longer lifetime for the OLED, better efficiency and no limitation on display size.
The first OLED products used PMOLEDs but over the past decade AMOLEDs have increasingly gained market share. Samsung and LG Display dominated the AMOLED panel market in 2016, which consisted of over 300,000 million panels. It's not hard to understand this growth. When compared to LCD displays, AMOLED displays are thinner and more flexible, have a fast refresh rate, have no size restriction, a higher contrast ratio, a wider viewing angle and consume less power. Without the backlight of LCDs, they are a little harder to view in direct sunlight and since they are organic they don't last as long as LCDs. But gradually these disadvantages are being eliminated. As the economies of scale do their magic for OLEDs, it is expected that production costs will drop significantly over the next decade. The result is cheaper, lighter, more efficient flexible displays for the foreseeable future. It's easy to see why Apple would deal with their traditional competitor to get in on the action.
Of course this is technology we are talking about, so no technology can dominate forever. Although OLEDs are certain to hold the near future of flexible displays, there is something interesting on the horizon. Corning has a product called Willow Glass that is as slim as 100 microns, is very flexible and lightweight, can withstand temperatures up to 500° C and comes in spools that can be easily integrated into a manufacturing environment. If glasses such as Willow Glass can eventually achieve the lightness and flexibility of OLEDs, flexible LCDs may become a more viable technology. Undoubtedly more materials will be developed over the next decade that will further improve the performance and robustness of flexible displays.