Back in January one of our writers, Roger Pink, wrote an article predicting the future of 5G networks. Roger talks about 5G being the new standard for mobile communications and how 2018 is going to be a huge year for 5G development. He definitely wasn't wrong. In the last six months, there have been a lot of developments in 5G, proving that it is going to have an impact on optical networks. The Pyeongchang Winter Olympics gave users a peek at what a 5G network would be like. Laser combs have been developed to further push the development of 5G. 5G promises higher data rates and speeds than 4G, uses smaller antennas and smaller radio frequency transceivers.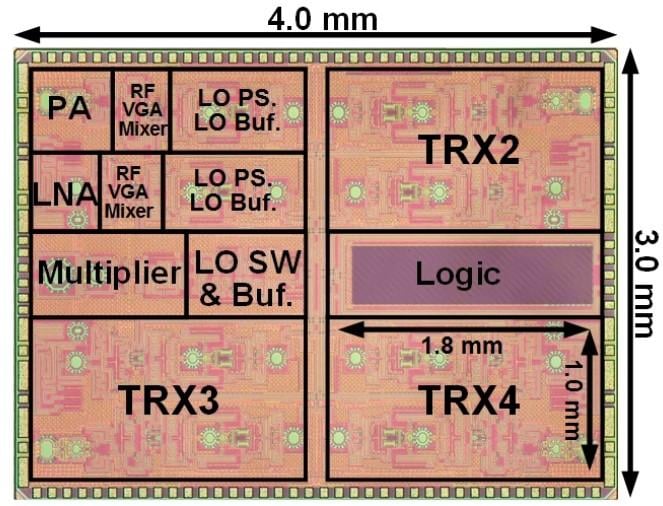 The fabricated transceiver only measures 3 mm × 4 mm and consists of four transmitting and receiving elements. (Source: IEEE Radio Frequency Integrated Circuits Symposium 2018)
A lot of excitement surrounds 5G, but some developments still need to happen before it becomes commercially available. Researchers from the Tokyo Institute of Technology are bringing us the latest development: a 28-GHz transceiver that is fast, reliable and perfect for the developing 5G networks. This new design builds on and improves previous designs using a new approach to beam steering.
Current state-of-the-art transceivers that have been developed for 5G use phase shifters. Phase shifters are important because they allow the transceivers to guide the main lobe of the radiation pattern to the antenna rays. The transceivers point the antenna ray towards a certain direction so both of the commuting ends exchange signals with the highest power possible. Although this seems promising, the shifters have plenty of complications and won't work well for 5G networks.
The research team from the Tokyo Institute of Technology has developed a 26-GHz transceiver that uses a local oscillator (LO) phase shifting approach. This approach creates a circuit that allows the transceiver to shift phases of a local oscillator to 0.04˚ with little to no errors. This has never before been developed. This phase shift provides a beam-steering resolution of 0.1˚. This is a huge improvement from previous transceivers. The new developments also allow the antenna ray to be placed perfectly at the direction that is needed.
The LO phase shifting solves a huge problem that has been plaguing 5G development for years. Researchers have struggled with calibration complexity using multiple RF shifters. RF phase shifters need near perfect calibration in order to stay invariant during phase tuning, which becomes more difficult as the size of the waves and frequencies grows. The new phase shifting approach provides a gain variation that is close to zero, over a 360˚ range, reducing calibration complexity.
The new transceiver was developed to fit on a small circuit board that measured 4mm x 3mm with minimal components. This makes it easy to fit on any current or future device. The performance of the transceiver was compared to other state-of-the-art transceivers that have been made for 5G. The new transceiver achieved data rates of 10Gb/s, much higher than the other transceivers.
This research is being presented at 2018 IEEE Radio Frequency Integrated Circuits Symposium.