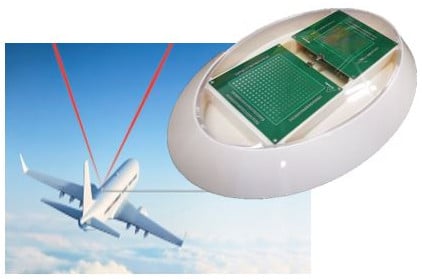 Arralis's new phase shifters unlock flat beam-steering antenna capability for 5G and on-the-go satellite communications. Source: ArralisIrish company Arralis, developer and manufacturer of RF, micro and millimeter-wave products, is offering new high-frequency analog monolithic microwave integrated circuit (MMIC) phase shifters which allow greater than 360° analog phase variation with low insertion loss covering two satellite Ka bands: 17 to 21 GHz and 25.5 to 32.5 GHz.
The products are ideal for tracking fast-moving, low-earth orbit (LEO) satellites due to their analog nature and continuous phase variation, allowing continuous electronic beam steering. The extended frequency range of the upper band chip is also suitable for the proposed 5G band and will be ideal for beam steering base stations. In addition, the added benefit of simplified assembly is possible as these chips are available with an integrated power amplifier.
This development is of great benefit to designers of connected and autonomous vehicles and 5G systems, as now a simple, reliable and flat beam steering and continuous tracking antenna can be realized.
Arralis also announced new Ka band phased array aircraft antennas enabled by their Ka band analog phase shifters. The technology allows true electronically steerable, low-profile antennas to be offered to the commercial and defense aircraft markets. The capability is ideally suited to continuous tracking of fast-moving, LEO satellites.
The Arralis compact, lightweight and aerodynamic Ka band phased array antennas have no stabilization requirements, are 400% smaller than their Ku band counterparts and are made specifically with airliners, business jets, military aircraft and unmanned aerial vehicles in mind. The innovative antennas will open up aircraft markets to the high data rates (up to 2 Gbps) and low latencies of high-throughput satellite (HTS) communications.
Companies such as Facebook, Inmarsat and SpaceX have recently announced their plans to use the Ka band to provide broadband services around the globe, with the initial SpaceX deployment consisting of an unprecedented 4,425 satellites with Ka band payloads.
Arralis has an extensive range of Ka band chips, aimed at the 17 to 21 GHz and 27 to 31 GHz mega-constellation frequency bands on the market. The full range, fabricated on a space-qualified process, includes an integrated LO amplifier, IQ mixers, and phase arrays and low-noise amplifiers. Arralis products will significantly reduce Ka band transceiver size and are an important enabler in reducing satellite size, power and weight.