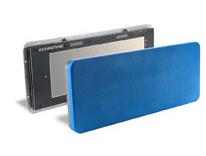 Metamaterials electronically scanning array antenna for radar application.Startup Echodyne Corp. has released its first metamaterials electronically scanning array (MESA) antenna for radar applications. By comparison to traditional electronically scanned arrays, MESA is roughly five times smaller in size and does not require phase shifters at the antenna elements. In fact, unlike conventional mechanical apertures which steer a radar beam using motorized gimbals, Echodyne's MESA requires no moving parts to steer its beam. Plus, metamaterials architecture does not use expensive and inefficient transmit/receive modules, which include phase shifters, amplifiers, circulators, and low noise amplifiers, behind every single antenna element. The net effect of this simplified architecture is lower cost, size, weight and power. Thus, it will open new markets for high performance radar.
Designed for X-band radar, MESA-X-EVU is available in limited quantities to qualified partners and integrators interested in evaluating the new antenna for radars used in a variety of commercial applications like maritime, aviation and surveillance/security among others.
MESA-X-EVU operates at X-band and has a broad field of view (±50° in azimuth and ±45° in elevation), which it can scan very rapidly given its sub-microsecond beam switching speed. It includes the metamaterials array, the array control driver circuitry, and the beam steering computer. Fully assembled without packaging, the subsystem measures 50 x 18 x 2.5 cm with a total weight of only 1.4 kg. The aperture is controlled through a simple USB 2.0 interface and requires only a single +12 V DC source to operate. Users interested in evaluating MESA-X-EVU can connect their own pulsed or FMCW transceivers through a single coax SMA port, says Echodyne.