A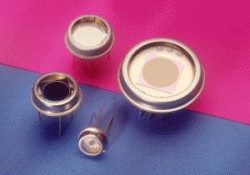 Source: Electro Optical Components, Inc.n avalanche photodiode (APD) with a silicon carbide substrate (SiC) exhibits the sensitivity and high signal gain of a traditional APD with a signal response confined to the ultraviolet (UV) region of the electromagnetic spectrum. The SiC UV APD serves as an ideal replacement for UV photomultiplier tubes as well as a variety of other low signal UV light applications.
Electro Optical Components introduced a UV Solar Blind Silicon Carbide Avalanche Photodiode for low signal applications. The solid-state device incorporates a SiC substrate, which provides for a higher bias voltage around 180 VDC, greater stability in high energy UV applications and higher temperature stability than silicon components.
The device is ideal for a range of applications including flame detection, UV photon counting, low-level UV monitoring and as a replacement for UV PMTs.