Industrial Electronics
PIN vs. APD: Different Sensitivity, Different Applications
21 November 2017
Sponsored content
PIN and APD receivers are used to facilitate fiber optic networks. Often, they provide extremely high-speed internet access or receive telephone and digital television signals. The chief overall advantage of optical technology is its high data transfer rate; PIN and APD receivers are both designed for such applications. However, there are distinct differences in the technologies.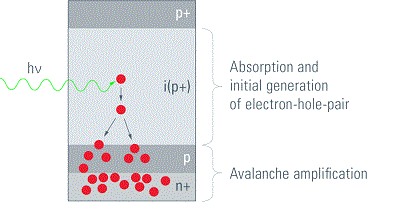 Figure 1. Operation of an APD. Source: Shahriarh91 / CC BY-SA 4.0
Avalanche photodiodes (APDs) are widely used in laser-based fiber optic systems to convert optical data into electrical form. They are high-sensitivity, high-speed semiconductor light sensors.
The main advantage of the APD is that it has a greater level of sensitivity compared to PIN. The avalanche action increases the gain of the diode many times, providing much higher sensitivity. However, an APD requires a higher operating voltage. In addition, the term avalanche refers to the output being non linear; as a result, APDs also produce a higher level of noise than a PIN diode.
Also APDs, unlike PIN devices, need a high reverse bias condition to work. That permits avalanche multiplication of the holes and electrons created by the initial electron-hole pairs. APDs have an internal region where electron multiplication occurs by application of an external reverse voltage. The resultant gain in the output signal means that low light levels can be measured at high speed.
For silicon, an APD diode will typically require between 100-200 V, and with that voltage they will provide a current gain effect of roughly 100 V, resulting from the avalanche effect. Some diodes that use specialized manufacturing processes enable much higher bias voltages of up to 1,500 V to be applied. The gain levels increase when higher voltages are applied, therefore the gain of these avalanche diodes can rise to the order of 1,000. That provides an advantage in solutions where sensitivity is important.
Typical applications for APDs are laser rangefinders and long-range fiber optic telecommunication, as well as positron emission tomography and particle physics. APD arrays are increasingly commercially available.
The avalanche photodiodes are not as widely used as their PIN counterparts. They are generally used where the level of gain is important and because of the high voltages required and lower reliability, they are often less convenient to use than APDs.

A PIN diode has a wide, undoped intrinsic semiconductor region between a p-type semiconductor and an n-type semiconductor region, hence the name PIN. Because they are used for ohmic contacts, the p-type and n-type regions are typically heavily doped. The wide intrinsic region makes a PIN different from an ordinary p–n diode and makes the PIN diode an inferior rectifier (the normal function of a diode), but does make it suitable for attenuators, RF switches, photodetectors and high-voltage power electronics applications, such as a high-voltage rectifier. The intrinsic region provides a greater separation between the p and n regions, allowing higher reverse voltages to be tolerated.
PIN diodes are particularly used in RF applications where there are low levels of capacitance. Their switching and variable resistance properties make them well-suited in switching and variable attenuator applications.
Precision Optical Transceivers can help determine what technology fits best with your design. Visit them at: https://www.precisionot.com/
Find Free Electronics Datasheets