Dartmouth College researchers have developed a faster, cheaper and safer method for back surgery. MRIs and CT scans have been successfully used to find spine problems before surgery for years, but there are a few issues that can make these scans inaccurate. Tissue, bone and natural human movements during surgery are some common issues that doctors have to attempt to overcome when performing spinal surgery, making the CT scans taken before the surgery less accurate.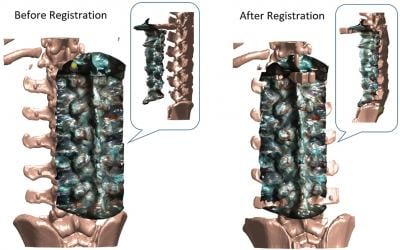 This image shows registration of CT and iSV (intraoperative stereovision). CT is transformed to match its surface to iSV, represented in tracking system coordinates. (Source: Dartmouth College)
Dartmouth professors from the Thayer School of Engineering and the Geisel School of Medicine have created a 3D, real-time optical tracking system that helps doctors and surgeons as they are operating.
The system is made of two cameras attached to a surgical microscope and uses a complex software algorithm. It produced real-time 3D digitized images on a monitor. This system has been used previously in brain surgery.
A surgeon can use the intraoperative stereovision system (iSV) without any radiation or marking key areas of the spine in order to match up with the CT scan taken before the surgery. The system provides doctors with accurate renderings of where the spinal implants or surgical tools need to go during the procedure. The system could potentially save up to 30 minutes of surgery time.
The iSV system's accuracy and efficiency were tested on pig spines. Based on the results of the study, the team converted the system into a handheld "wand" that the surgeon can pass over the surgical area.
"By rendering images real-time, with a simple handheld tool, we believe we can make surgeries safer and less costly in the future," said Keith Paulsen, MS, PhD, of Dartmouth's Thayer School of Engineering.
The next step for researchers is to test the system on humans after some final fine-tuning. While the system is promising, it may be a few years before it is available for human spinal surgeries.
The paper on the new system was published in Operative Neurosurgery.