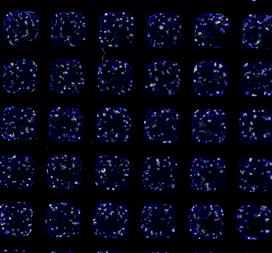 Zoom image of a miniature-well plate containing kidney organoids. Source: Freedman Lab/UW Medicine
Miniature human organs, derived from stem cells, are being grown by robots.
It's the sort of opening sentence that might make you spit out your morning coffee and leap in terror. Before you call the National Guard, however, rest assured that the robots are part of an automated system developed at the University of Washington School of Medicine in Seattle. By accelerating the time frame in which such mini-organs can be produced, their use in regenerative medicine research and drug discovery could be greatly expanded.
"This is a new 'secret weapon' in our fight against disease," said Benjamin Freedman, an assistant professor of medicine in UW's nephrology division.
Freedman explained that the traditional way to grow cells for biomedical research was to culture them as flat, two-dimensional sheets, which are overly simplistic. In recent years, researchers have been finding increasing success in growing stem cells into more complex, three-dimensional structures known as organoids, or mini-organs. These structures not only resemble rudimentary organs, but also behave similarly. The challenge is to mass-produce them — and that's where the robotic system comes in.
For Freedman and his team, the process involved using liquid-handling robots to introduce stem cells into plates containing as many as 384 miniature wells, and then coaxing them to turn into kidney organoids over 21 days. Each of those wells contained 10 or more organoids; the plates essentially became an assembly line for producing mini-organs in the thousands.
"Ordinarily, just setting up an experiment of this magnitude would take a researcher all day, while the robot can do it in 20 minutes," said Freedman. He points out that there also is no potential for fatigue to set in, potentially leading to mistakes.
"There's no question," Freedman added. "For repetitive, tedious tasks like this, robots do a better job than humans."
Hm. Maybe you'd better keep that National Guard number handy, just in case.