Computers are shrinking and becoming more portable, underscoring the need for smaller and more powerful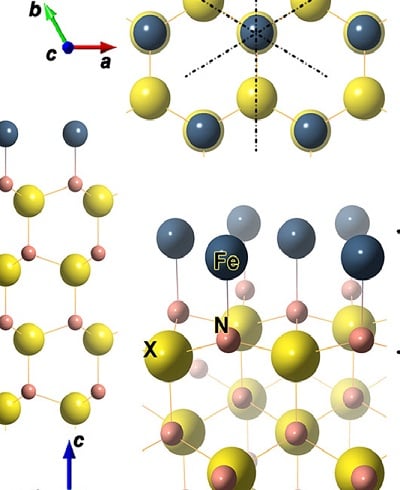 Surface structures of one-monolayer iron deposited one N-terminated surface of III-V nitride XN (X = B, Al, Ga and In) substrate. Source: University of New Hampshirestorage capacity. A solution may be forthcoming from the University of New Hampshire, where researchers have discovered that using an easily made combination of materials might be the way to offer a more stable environment for smaller and safer data storage, ultimately leading to miniature computers.
The proposed material would allow for a more stable perpendicular anisotropic energy (PMA), the key driving component in a computer's RAM (random-access memory) or data storage. The material would be composed of ultrathin films, known as Fe monolayers, grown on top of non-magnetic substances. The latter are represented by X nitride substrates, where X could be boron, gallium, aluminum or indium. The researchers observed that this combination showed anisotropic energy would increase by fifty times, from 1 meV to 50 meV, allowing for larger amounts of data to be stored in smaller environments.
These materials systems also offer safer data storage as well as less radiation emitted from the device. The researchers envision broader possibilities for much smaller computers for everything from basic data storage to traveling on space missions — even a computer the size of a pin head.
The research is published in the journal Science Advances.