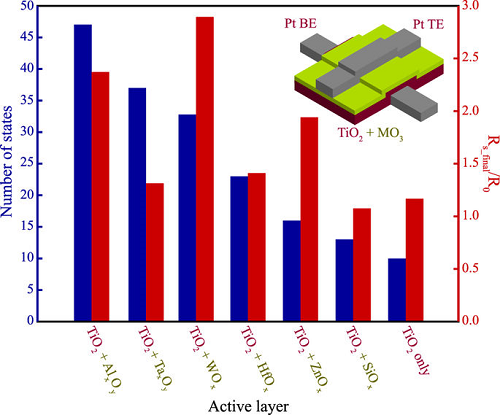 Multibit evaluation of devices based on different barrier layer combinations. Number of attainable resistive states (left axis) and ratio of the final state resistance over the baseline resistance (right axis) for typical bilayer devices. Source: University of Southampton
Memristors could be the enabling technology for a new generation of electronics, being both smaller and simpler in form than transistors, low-energy, and with the ability to retain data by 'remembering' the amount of charge that has passed through them — potentially resulting in computers that switch on and off instantly and never forget.
Materials research conducted at the University of Southampton, U.K., has demonstrated a new memristor technology that can store up to 128 discernible memory states per switch, almost four times more than previously reported.
The researchers tested several configurations of functional oxide materials — the core component that gives the memristor its ability to alter its resistance. Bilayer resistive random access memory aluminum oxide/titanium dioxide devices with up to 6.5 bits of information storage and excellent retention and power consumption performance were fabricated.
The research is published in the journal Scientific Reports.