Development of a wearable lung is underway at University of Pittsburgh as a bridge to transplant or recovery in patients with acute and chronic lung failure. The Paracorporeal Ambulatory Assist Lung (PAAL) project just received a $3.4 million National Institutes of Health grant.
Current long-term breathing support modalities, such as extracorporeal membrane oxygenation (ECMO), can significantly limit a patient's mobility. Mobile ambulatory EMCO systems are beginning to be used clinically, but involve unwieldy equipment.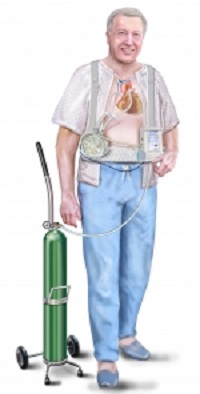 An artificial lung will serve as a bridge to transplant or recovery in patients with lung failure. (Source: University of Pittsburgh)
The PAAL compact respiratory assist device will replace these options as a wearable, fully integrated blood pump and lung. The system is intended to provide longer-term respiratory support for up to three months.
The PAAL device will complement recent efforts by the University of Maryland (which developed a wearable artificial pump-lung) by potentially improving the efficiency of the transfer of oxygen and carbon dioxide and increasing biocompatibility.
In laboratory tests, the PAAL pumped over 250 mmHg at 3.5 L/min at a rotation speed of 2100 RPM. Oxygenation performance met the target of 180 ml/min at 3.5 L/min of blood flow in vitro, resulting in a gas exchange efficiency of 278 ml/min/m2. Blood left the device 100% oxygenated in vivo and oxygenation reached 181 ml/min at 3.8 L/min.