Physicians may soon be able to see right through you, primarily to track where an endoscope is located in the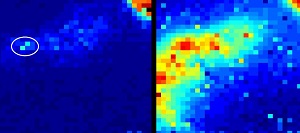 Image on left shows light emitted from the tip of an endomicroscope, revealing its precise location in sheep lungs. Right image shows the picture that would be obtained using a conventional camera, with light scattered through the structures of the lung. Source: University of Edinburghbody. A new camera uses technology that can detect individual particles of light, called photons, in order to detect sources of light inside the body, such as the illuminated tip of the endoscope's long flexible tube.
The equipment is so sensitive that it can detect the tiny traces of light that pass through the body's tissue from the light of the endoscope. It can also record the time taken for light to pass through the body, allowing the device to also detect the scattered light. Thousands of single photon detectors have been integrated onto a silicon chip, similar to that found in a digital camera, to achieve these capabilities.
The camera was developed by researchers from University of Edinburgh and Heriot-Watt University for use at a patient's bedside. Early tests have demonstrated that the prototype device can track the location of a point light source through 20 centimeters of tissue under normal light conditions.