An endoscope that's about as thin as human hair and featuring an optical fiber only 125 microns in diameter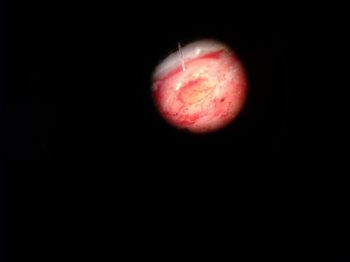 A new endoscope as small as a human hair was used to image neuronal activity in mice. The optical fiber microendoscope (upper left) is shown just before it is inserted into tissue. Source: Shay Ohayon, MITis so small that it can be inserted into areas of living mouse brain not accessible with other equipment. The device engineered at MIT can image neurons firing down to a resolution of about one micron. The research represents the first time that imaging with such a thin endoscope has been demonstrated in a living animal.
The microendoscope is based on a multimode optical fiber, which can carry multiple beams of light at the same time. When light enters the fiber, it can be manipulated to generate a tiny spot at the other end, and can be sent to different positions on the tissue without moving the fiber. Scanning the tiny spot across the sample allows it to excite fluorescent molecules used to label neuron activity. As the fluorescence from each spot travels back through the fiber, an image of neuron activity is formed.
An optical component known as a digital mirror device (DMD) was used to scan fast enough to image neurons firing and to quickly move the light spot. A method was developed that allowed use of the DMD to scan light at speeds up to 20 kilohertz, which is fast enough to see fluorescence from active neurons.
Since the multimode fibers used for the endoscope scramble light, the researchers applied a a wavefront shaping technique to convert the scrambled light into images. Various patterns of light are sent through the fiber to a camera at the other end which records exactly how that specific fiber changed light that passed through. The camera is then removed, and the fiber placed into the brain for imaging. The previously obtained information about how the fiber changes the light is then used to generate and scan a small point across the field of view.
After successfully imaging cultured cells, the researchers tested the microendoscope on anesthetized mice. The fiber was inserted through a tiny hole in the skull of a mouse and slowly lowered into the brain. To image the neurons firing, the researchers used a calcium imaging technique that creates fluorescence in response to the influx of calcium that occurs when a neuron fires.
In addition to showing that their endoscope could catch detailed neuronal activity the researchers also demonstrated that multiple colors of light could be used for imaging. This capability could be used to observe interactions between two groups of neurons each labeled with a different color, for example.
For standard imaging, the endoscope images the neurons at the very tip of the fiber, but the new tool was also demonstrated to image up to about 100 microns away from the tip.
The research is published in Biomedical Optics Express.