Learning about animal behavior just became way easier. Researchers from Columbia University have developed an artificial intelligence (AI) algorithm that can filter spam in hours of video footage to learn about the life of the pond-dwelling hydra. The hydra is related to coral, jellies and sea anemones. It doesn't have a backbone or a brain, but it moves, feeds and runs from predators. The life of a hydra is so predictable that a computer can recognize its life patterns with ease.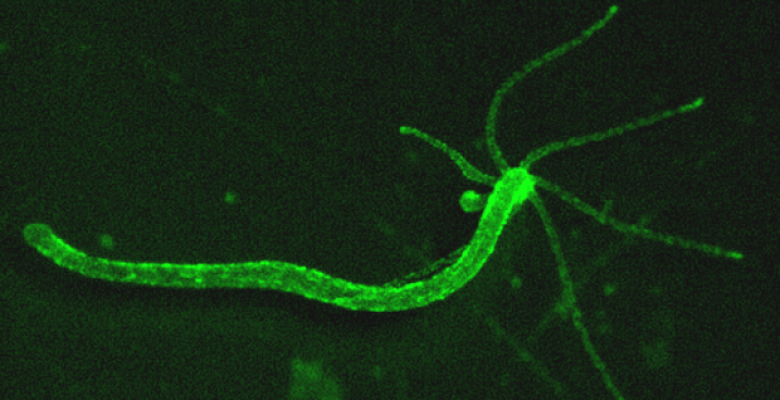 Researchers show how an algorithm for filtering spam can learn to pick out, from hours of video footage, the full behavioral repertoire of tiny, pond-dwelling Hydra. In the above image, hydra's neurons are labeled with a green fluorescence indicator. (Source: Yuste Lab, Columbia University)
The researchers are using this AI algorithm to compare the behavior of hydra to the firing of neurons. The researchers want to understand how the nervous system of this animal works and they hope it could lead to research in larger animals.
"People have used machine learning algorithms to partly analyze how a fruit fly flies, and how a worm crawls, but this is the first systematic description of an animal's behavior," said the study's senior author, Rafael Yuste, a neuroscientist at Columbia University and a member of Columbia's Data Science Institute. "Now that we can measure the entirety of hydra's behavior in real-time, we can see if it can learn, and if so, how its neurons respond."
Instead of a brain, the hydra has hundreds of neurons that run along its body. These neurons coordinate the animal's behaviors like curling into a ball or somersaulting to get around.
In a past study, Yuste and his team recorded all of the hydra's neurons firing in real-time and discovered four sets of neural circuits. These neural circuits control all four distinct elongation and bending behaviors. This was key to understanding how the hydra's nervous system regulates the behavior.
The current study takes this research a step further. The new research attempts to catalog all of hydra's behaviors. The researchers applied the "bag of words" classification algorithm to hours of footage of hydra's every move. The algorithm analyzed the videos of hydra to find it's repetitive movements.
The algorithm recognized 10 previously found behaviors and then measured how six of the behaviors respond to different environmental conditions. The algorithm found that the behavior barely changed, which came as a surprise to the research team.
"Whether you fed it or not, turned the light on or off, it did the same thing over and over again like an Energizer bunny," said Yuste.
The research team believes that hydra may have evolved to adjust to the environment on auto-pilot. The team is experimenting with other stimuli to see if hydra does respond and learn to changes. They aim to crack the neural code with a model that shows how the networks of neurons create behavior.
This research may be useful to a branch of engineering that focuses on maintaining stability and precise control in machines that are navigating in highly variable conditions.
The nervous systems of all animals, even the small ones, have evolved to maintain constancy in behavior. If their secret is unlocked, it would open so many new doors for biologically-inspired technology.