3D printing has been a wonder for creating technology fast and cheaply. It has been used to manufacture drones in less than 24 hours, develop living tattoos, build a house in 24 hours and even create fully functional electronic circuits.
Now, an Italian electric car maker and 3D printing company have introduced what they claim is the first mass-producible 3D printed electric car.
XEV is building an electric car using the manufacturing ability from Chinese-based Polymaker in order to show the potential of 3D printing in mainstream car production.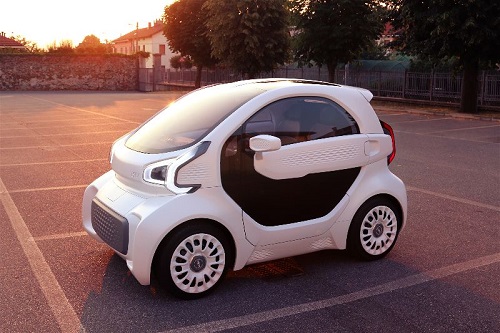 The LSEV 3D printed car would be priced under $10,000. Source: XEVThe vehicle, named LSEV, would be offered at a price under $10,000 built with lightweight parts that would lead to greater fuel efficiency.
In order to make an electric vehicle that is priced under $10,000 means that XEV has to decrease the plastic parts and number of components in the automobile. It accomplished this via 3D printing reducing the number of parts to 57 down from about 2,000. The finished LSEV weighs only 450 kilograms, which is far less than similar vehicles that are between 1 and 1.2 metric tons.
Besides the chassis, seats and glass, all the visible parts of the LSEV are made via Polymaker materials through 3D printing. This allows for a more than 70 percent reduction of the investment cost compared with traditional automotive production.
The LSEV takes about three to 12 months to finish a new design, whereas conventional R&D for new car models takes three to five years.
XEV says it has already received 7,000 orders from Europe even before mass production commences with 5,000 orders coming from Poste Italiane, a delivery service in Italy, and 2,000 orders from ARVAL, a vehicle leasing company.
Production of the LSEV is slated to begin in the second quarter of 2019.