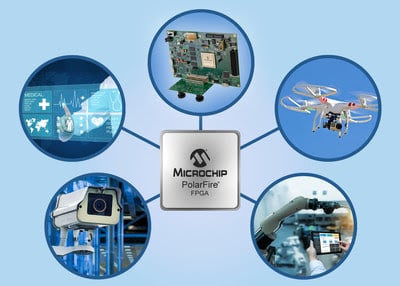 The PolarFire series of FPGAs. Source: MicrochipMicrochip Technology Inc., via its Microsemi subsidiary, has extended its smart embedded vision field programmable gate array (FPGA) series with high-speed imaging interfaces, intellectual property (IP) bundle for image processing and an expanded partner ecosystem.
Microchip's smart embedded vision provides a suite of FPGA offerings that includes IP, hardware and tools for low-power, small form factor machine vision for industrial, medical, broadcast, automotive, aerospace and defense markets.
The portfolio includes a serial digital interface (SDI) IP for video data streams over coaxial cabling, 1.5 Gbps per lane MIPI-CSI-2 IP for use in industrial cameras, 2.3 Gbps per lane SLVS-EC Rx image sensor interface IP supporting high-resolution cameras, multi-rate Gigabit MAC and 6.25 Gbps CoaXpress v1.1 host and device IP for machine vision, medical and industrial inspection.
The PolarFire FPGAs offer 30% to 50% lower total power over competing static random access memory (SRAM)-based mid-range FPGAs. Microchip chips range from 100K to 500K logic elements for five to 10 times lower static power for compute-intensive edge devices such as those deployed in thermally and power-constrained environments.