The stretchable electronics technology pioneered in the lab of Northwestern University engineering professor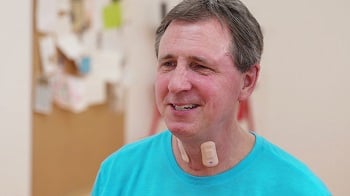 Source: Northwestern University/Shirley Ryan AbilityLabJohn A. Rogers, PhD, can now be extended to stroke rehabilitation. The wearable sensors developed in partnership with Shirley Ryan AbilityLab, a research hospital in Chicago, are designed to be worn on the throat to measure speech patterns and swallowing ability.
The bandage-like sensors measure the direct vibration of vocal chords, aiding in the detection and treatment of aphasia, a communication disorder associated with stroke. The throat sensor is applied together with electronic biosensors by Shirley Ryan AbilityLab to legs, arms and chest to track the recovery of stroke patients. Data are streamed wirelessly to clinicians' phones and computers, providing a quantitative, full-body picture of patients' advanced physical and physiological responses in real time.
Patients can wear the sensors after they leave the hospital, enabling home monitoring and allowing doctors to understand how their patients are functioning in the real world. Data from the sensors will be presented in a dashboard that is easy for both clinicians and patients to understand. It will send alerts when patients are underperforming on a certain metric and allow them to set and track progress toward their goals.