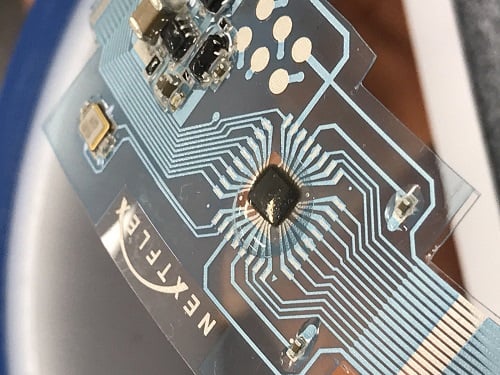 The flexible Arduino redesigned by NextFlex. Source: NextFlexMonterey, California — Flexible hybrid electronics manufacturing institute NextFlex has produced multiple functional samples of a flexible Arduino system, completely redesigning the classic maker board by printing and attaching thin bare die on a flexible substrate.
The device maintains the performance associated with the traditional design, but opens up a wealth of new possibilities in what can be done in the internet of things and sensor products for consumer, commercial and military applications. NextFlex introduced its flexible Arduino here at the Flexible Electronics Conference.
Wilfried Bair, senior engineering manager for device integration and packaging at NextFlex, tells Electronics360 that the company created a number of flexible Arduinos, including one that can be peeled and stuck onto different devices, as well as those that need to be mounted into an enclosure.
"Printed electronics have been around for a long time but with many limitations to what we can do with them," Bair says. "With a flexible Arduino we are proving the power and unlimited potential of printed flexible electronics for makers, designers and everyone in-between."
NextFlex was able to shrink the microcontroller down to a fraction of the size of a traditional Arduino in order to help with the flexibility of the device. The company also reduced the number of process steps by nearly two-thirds when compared to traditional manufacturing process, replacing the circuit board with a thin, flexible plastic sheet, and used digital printing processes for circuit elements. The result is an Arduino that is not just flexible but cheaper to manufacture and only a third of the weight of the rigid Arduino mini-board.
"Instead of taking a box, opening the box and mounting a rigid Arduino to something, you simply stick this on an optic or inside an optic and it goes away," Bair says. "The goal is not to have it visible but to make it go away into systems and controls."
Bair gives an example of a potential use for this flexible Arduino in acid monitoring where there is no flat surface in many devices. In a traditional design, designers must build a flat surface and then use a rigid device that then has to be mounted inside an enclosure. With a flexible Arduino, the device would conform to the surface without the need of any additional enclosure.
In terms of human monitoring, a flexible Arduino could be used to measure stress or fluidic intact and graft it directly onto the skin. In soft robotics, a flexible device could be used to allow robotics to get a better sense of touch for autonomous fruit picking or be used as an aircraft tool to determine if parts are leaking. In order to get to the areas of an aircraft, the device or robot must be flexible. Exoskeletons are another potential use, where it could be placed on a leg with sensors directly on the skin to help people walk again properly while sending real-time feedback to those monitoring, Bair says.
NextFlex, which gets much of its funding from the Department of Defense and manufacturers such as Lockheed Martin, takes designs that are in the research phase, where they have one or maybe two prototypes, and turns them into devices that can be produced in volume. NextFlex has the ability to make hundreds of thousands of devices if needed, but mostly it uses it as a starting point to then turn it over to a volume manufacturer to finish the last-mile in production.
"There have been many people that have tried to make flexible Arduinos before, but none of them worked," Bair says. "There is a difference between building one and making it work."
NextFlex first plans to give a number of its flexible Arduinos to high schools in order to expand the use of STEAM (science, technology, electronics, art and math) in schools to foster the next generation of workforce.
"We are giving enough devices to high school students and making it a contest for them to develop ideas," Bair says. "Use something that used to be in a rigid form factor and now is in flexible form. What can you do with it? That's the first priority for us."
Beyond that, NextFlex will give the flexible Arduinos to the maker community, including working with the Arduino Group to foster development.
NextFlex is also working on a flexible Arduino that includes Bluetooth Low Energy (BLE) for wireless connectivity. With wireless capabilities and a battery, the flexible Arduino literally becomes a peel-and-stick electronic, Bair says.