Vicor Power announced the introduction of a new 24 V buck regulator with pin compatibility for 48 V regulators, easing the transition to 48 V systems.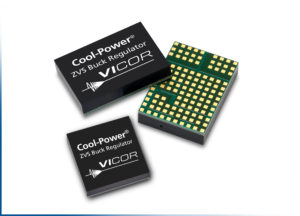 Source: Vicor Power
The new PI3325-00-LGIZ, an addition to the PI332x family of Cool-Power ZVS Buck Regulators, offer the same features of existing 48 V chips, allowing the designer to optimize their board designs for 24 V and 48 V systems.
The PI3325-00-LIGZ regulator provides a regulated voltage of 5 V at 20 A from 14-42 V input voltage. The device is packaged in an LGA SiP package within a 10 by 14 by 2.5 mm module.