Leveraging its power component design methodology and high-performance power components library, Vicor Corporation has readied a new online design tool, Power System Designer, for creating compact, multi-output modular power systems from the input source (AC or DC) to system loads. Using this tool, a user simply specifies the AC or DC input source and operating range, and the required output voltages with respective power (or current), regulation and isolation specifications. The Power System Designer tool then automatically generates and identifies the best alternative solutions. Each generated solution is characterized by five figures of merit, which include maximum operating efficiency, minimum component count, minimum cost, minimum footprint and recommended best fit. In fact the tool allows each solution to be viewed, analyzed and optimized using Vicor's fully editable Whiteboard tool, which is a web-based design tool for architecting and analyzing power system designs using Vicor's power components.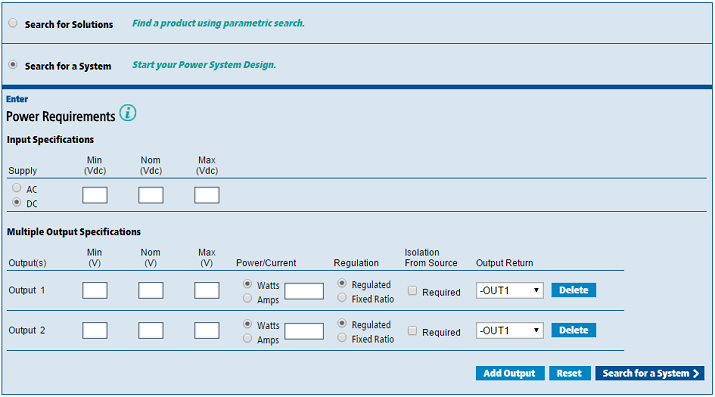 Vicor's online design tool Power System Designer generates complete AC or DC input to point-of-load solutions with best system efficiency, power footprint, cost, component count and board layout in minutes.
In essence, the Power System Designer tool generates an entire power system starting from AC or DC input source all the way to point-of-load with end-to-end electrical, mechanical and thermal analysis. Plus, for any selected design, the online design tool can display a visual representation of the mechanical layout of the system and generate a complete bill-of-materials along with ordering and pricing information. Additionally each solution offers superior power density and fast time-to-market, while minimizing the design risks and schedule uncertainties associated with discrete designs.
According to Vicor's Director of Corporate Marketing, Robert DeRobertis, there are about 2,500 sub-system models in the database supporting the new online design tool. These include Vicor product lines PFM, AIM, ZVS isolated DC-DC, DCM, BCM, IBC, VTM, PRM, ZVS Buck regulator, ZVS Buck-Boost regulator and NBM. Likewise, the tool allows a maximum of 20 outputs, and can process current designs of over 1600 A.
Early customer applications tapping the benefits of Power System Designer include LED displays, Indy race car power train, undersea exploration, universal AC and DC input power supplies for oil exploration, head LRU broadband controller, airborne geophysics, commercial printing and lithography, to name a few.