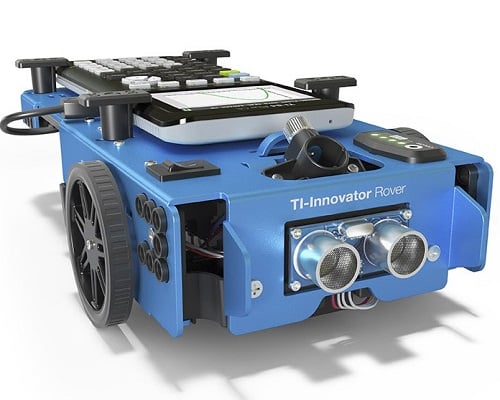 The TI-Innovator Rover robot gives students a start in STEM skills. Source: Texas Instruments Texas Instruments (TI) has introduced its first robotics solution for middle and high school students in a machine that is powered by a TI graphing calculator.
The TI-Innovator Rover allows students to write programs on the calculator to get the robot's wheels turning and encourages early science, technology, engineering and math (STEM) skills. The robot connects to a TI-Innovator Hub and either a TI-84 Plus CE or TO-Nspire CX graphing calculator, which many students already have.
Students without any exposure to coding or robotics can get started by writing basic programs to make the Rover robot do things like draw, dance or even crash.
"We created Rover to demystify robotics and give students who might be intimidated by programming an easy on-ramp to learn to code," says Peter Balyta, Ph.D., president of TI Education Technology. "Given the sheer joy we have seen on students' faces as they learned to code during our testing phase, we are excited to see how Rover will inspire more young minds through an introduction to robotics."
TI says Rover allows students to team together to work collaboratively on STEM concepts and the robot was built specifically for use in the classroom. Rover includes a rechargeable battery, color sensor, distance sensor, light emitting diode (LED) display, gyroscope and marker holder to trace on paper. The machine is currently in pilot testing phase with availability scheduled to take place later this fall in the U.S. and Canada and in Europe in early 2018.