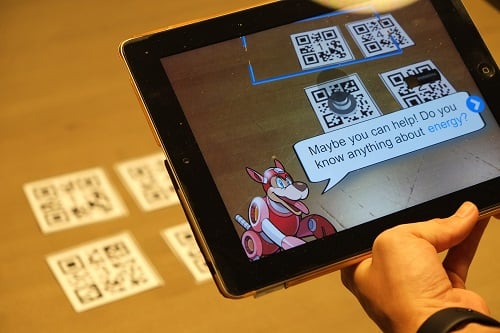 The AR platform teaches STEAM skills on a student's desk in classrooms. Image credit: Purdue University
A new startup is developing an augmented reality platform that is targeted at helping K-12 students learn science, technology, engineering, art and math (STEAM) skills more effectively and to increase standardized test scores.
Explore! Interactive was founded by Purdue University students to enhance the classroom learning process by allowing students to discover STEAM concepts through experimentation and gamification. The platform puts AR 3D models on a student's desk using an iPad, tablet or smartphone that is presented as a game that students must complete before advancing.
"Many students think of learning as boring, monotonous lectures with stacks of homework or textbooks. There are no alternatives for students who don't enjoy or exceed with that kind of learning," says Sam Rosser, a junior at Purdue Polytechnic Institute. "If Explore! Interactive can spur positive emotions toward learning at an early age, we can inspire so many kids to do so much better later in their lives. We want to help promote inspiration in children as they learn."
Explore! says the platform is more affordable than other alternatives making it a good fit for budget-tight schools and so it will allow more students to use the technology. The company says it will begin beta testing the AR application in classrooms in the fall.
The team consulted an educational psychologist at Harvard to cement the learning aspects of the augmented reality platform. They learned that if students feel as if they are playing whether at home or at school, they are more likely to learn better.
"We developed the product to increase K-12 standardized test scores," says Wesley Virt, founder of Explore! "While accomplishing a 'mission' within the platform, students will learn a specific concept relating back to a common core standard. For example, to teach a science standard, Explore! Interactive places students within a lighthouse where they will learn various concepts about electricity such as building a circuit."